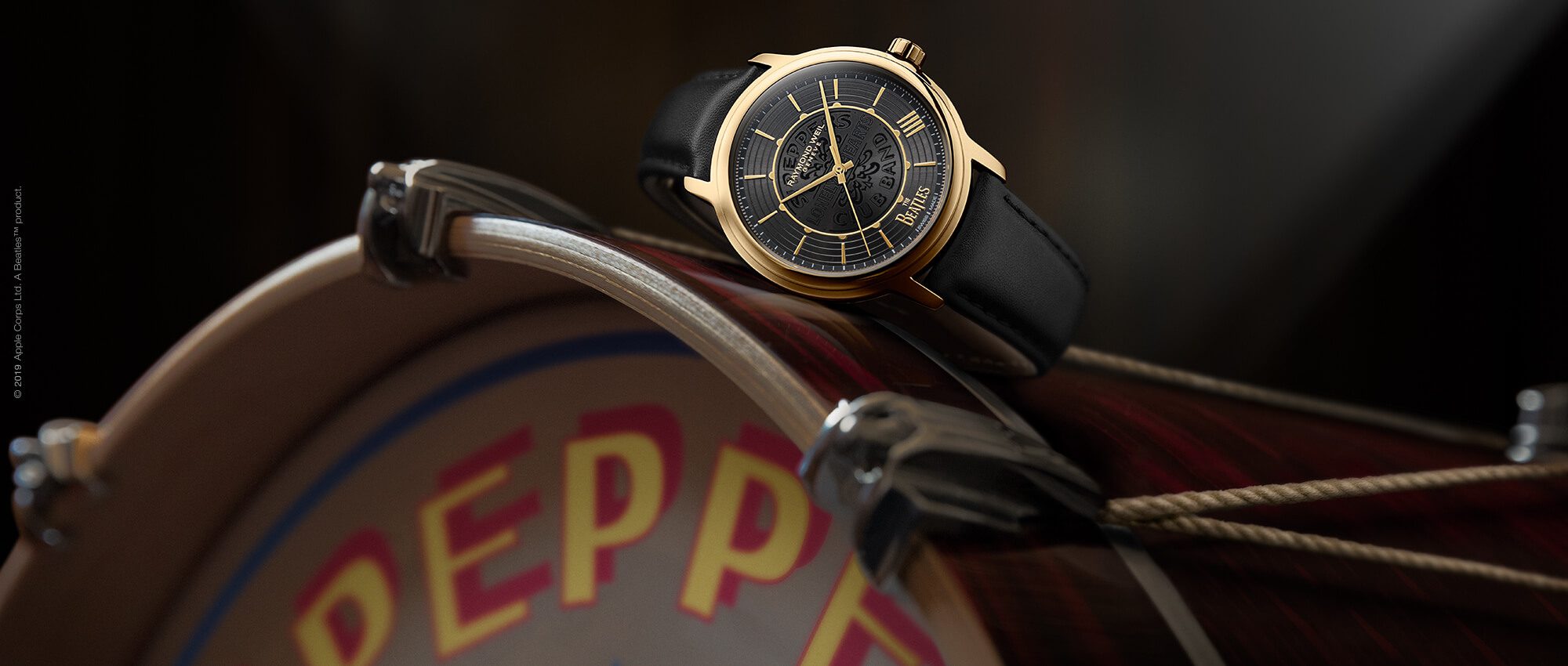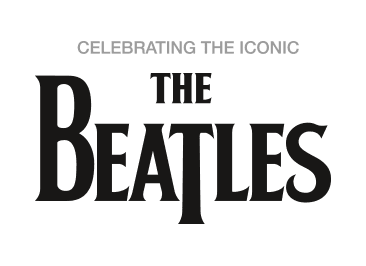 EDITION LIMITEE MAESTRO THE BEATLES
RAYMOND WEIL poursuit sa collaboration avec le groupe de rock le plus célèbre au monde et dévoile son troisième garde-temps maestro The Beatles, une édition très attendue limitée à 3'000 exemplaires. Inspirée de l'album légendaire Sergeant Pepper's Lonely Hearts Club Band, cette nouvelle version séduit par ses lignes et ses matières innovantes.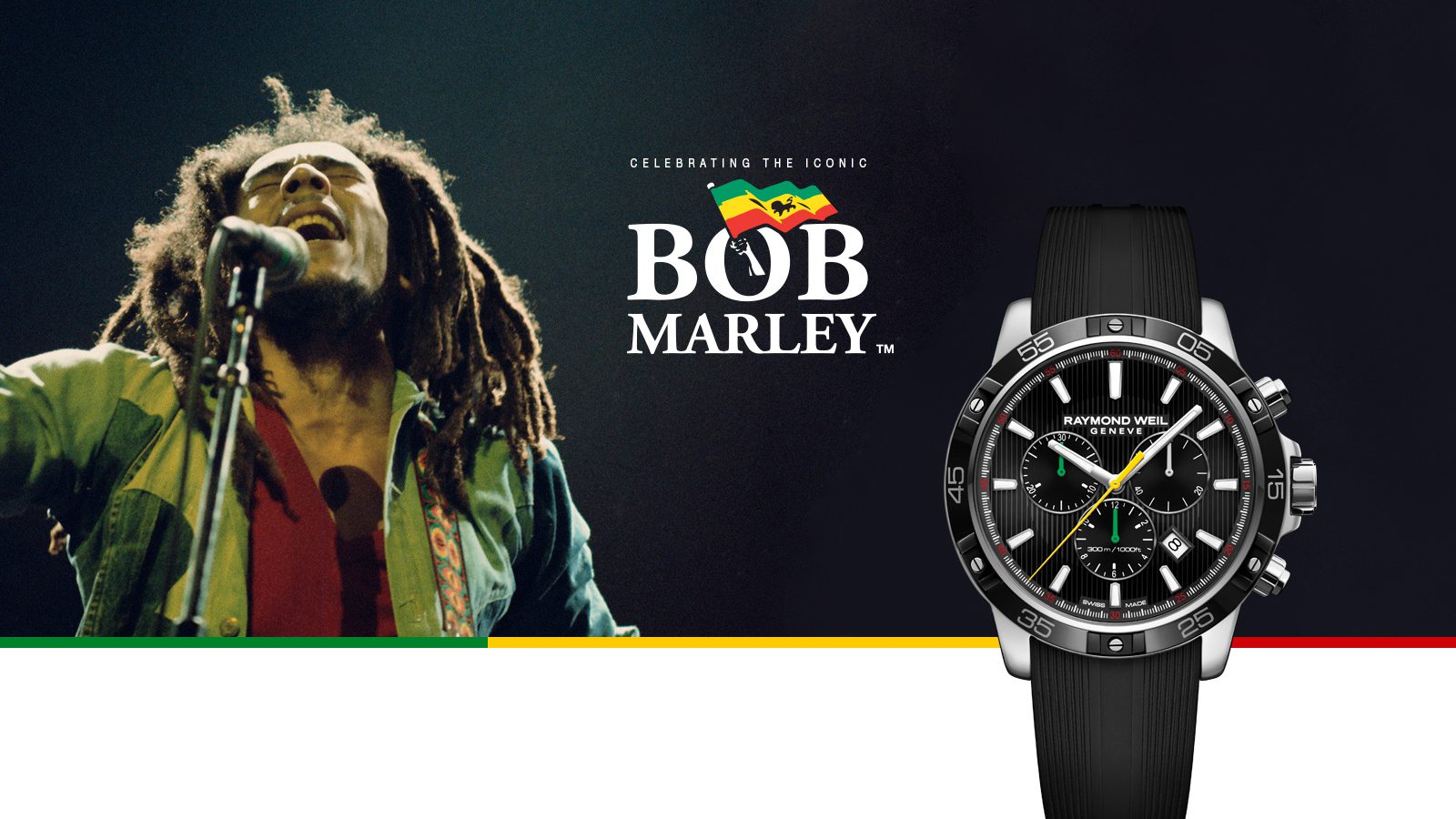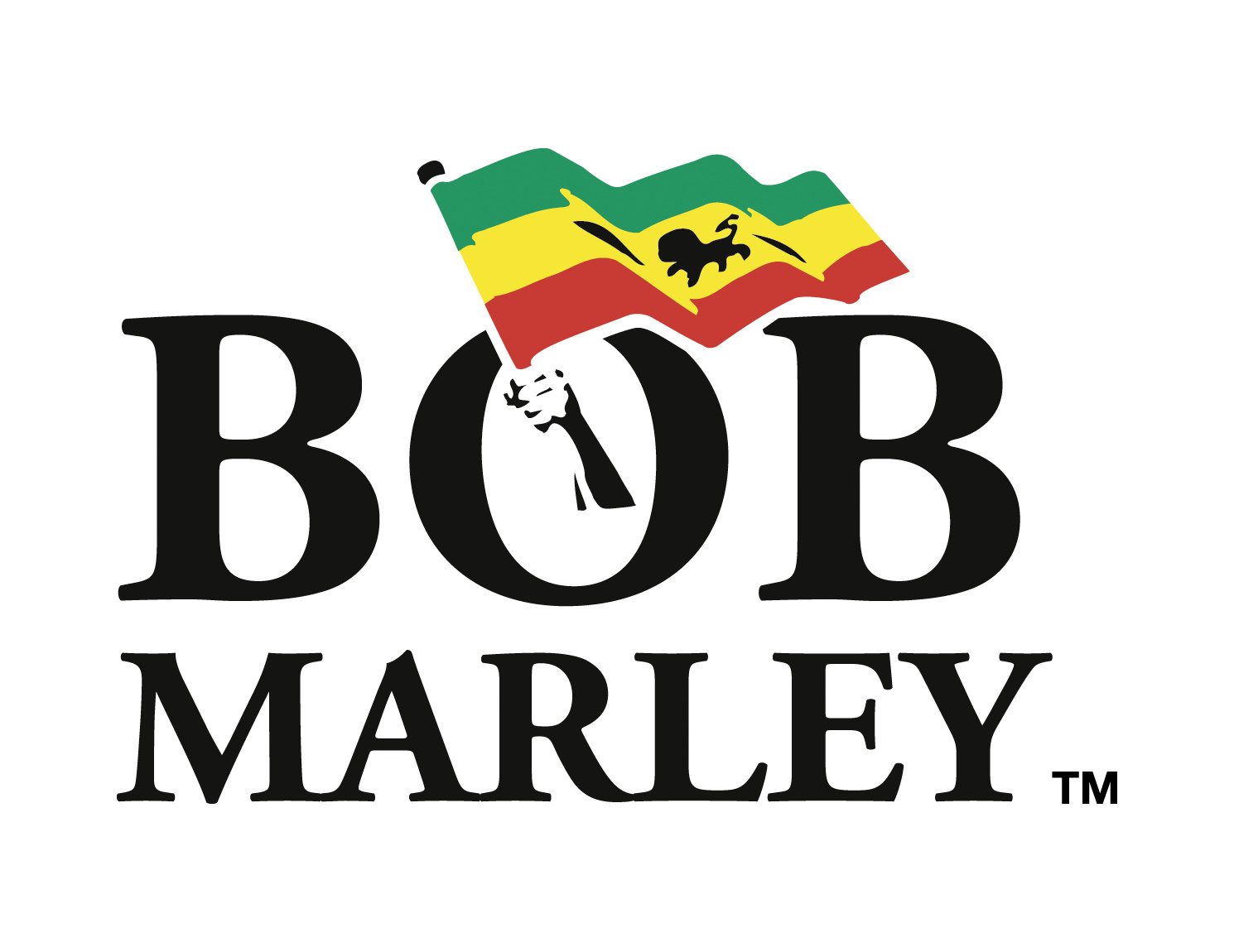 In collaboration with the House of Marley estate, RAYMOND WEIL pays homage to legendary musician – Bob Marley. A Caribbean exclusive with only 600 pieces available, the special edition tango 300 "Bob Marley" quartz chronograph, is a tribute to the life and musical career of one of the most influential artists of all time.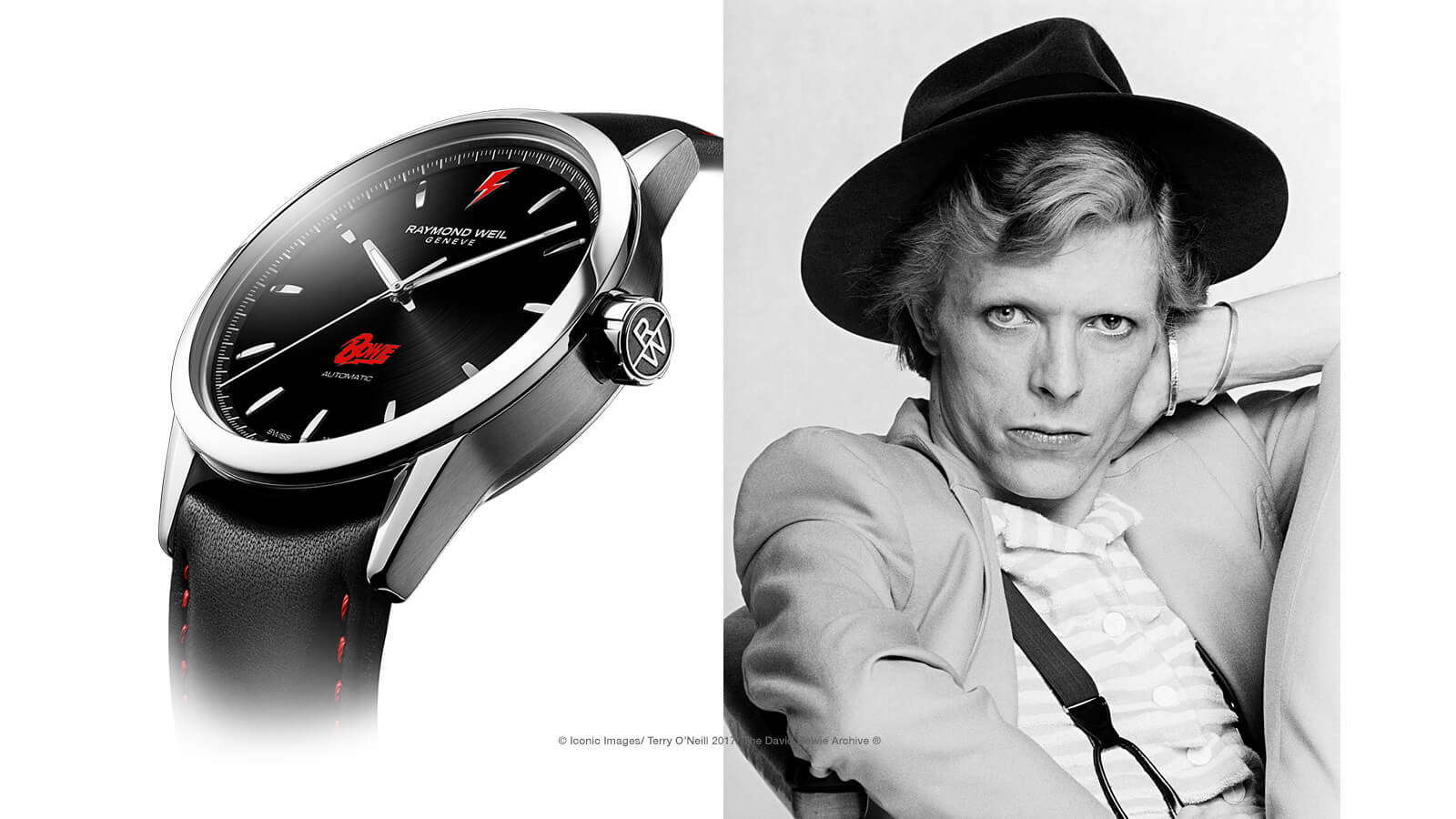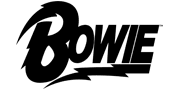 In collaboration with the David Bowie Estate, RAYMOND WEIL pays homage to legendary musician – David Bowie. The Limited Edition freelancer "David Bowie", is a tribute to the life and musical career of one of the most influential artists of all time.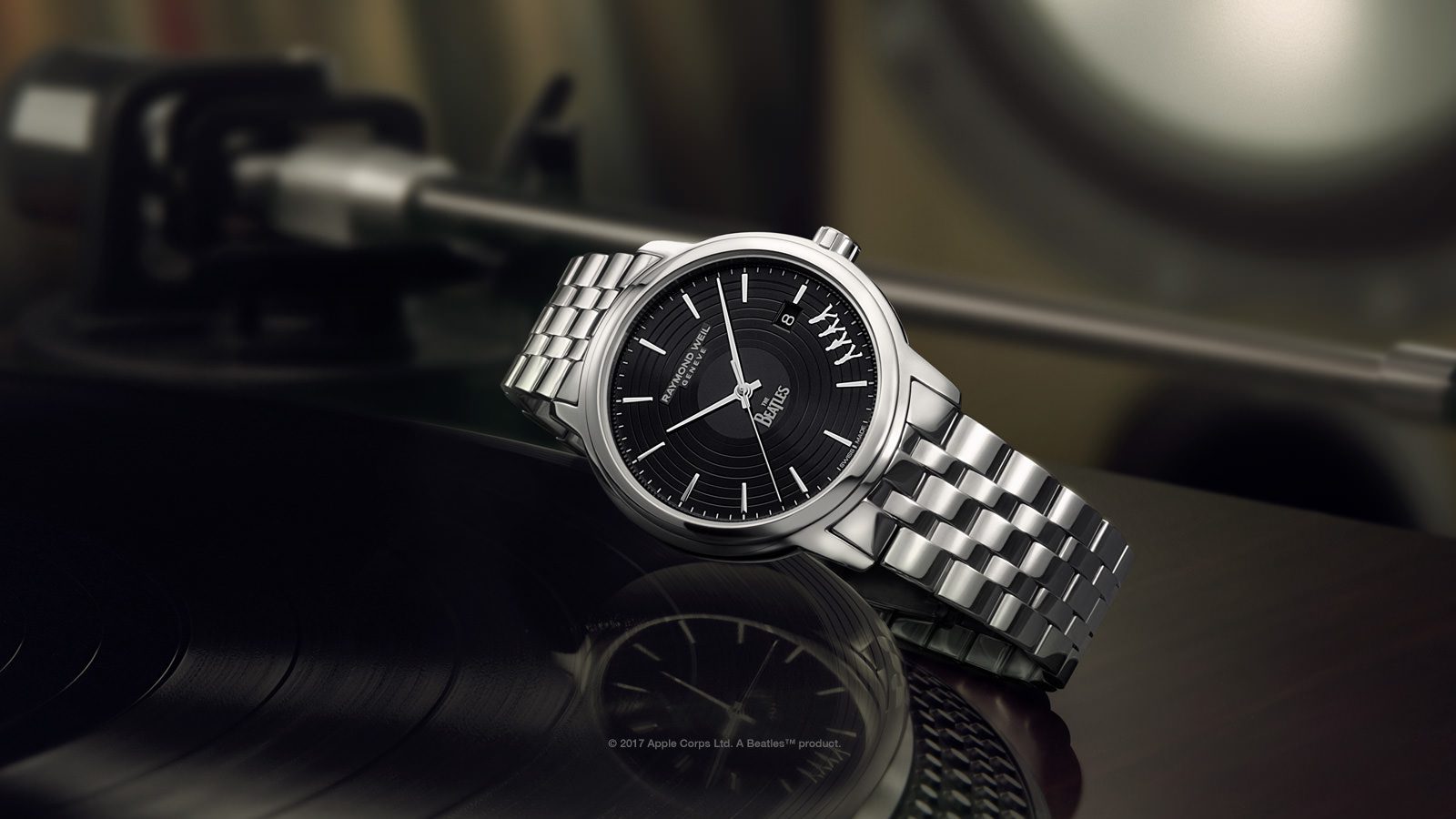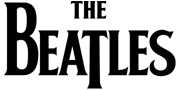 maestro the beatles "abbey road"
After celebrating its 40th anniversary with The Beatles in 2016, music loving RAYMOND WEIL continues its collaboration with the world's most famous rock band by releasing a watch paying homage to Abbey Road, the last album recorded by the legendary Fab Four and regarded by some as their most influential composition.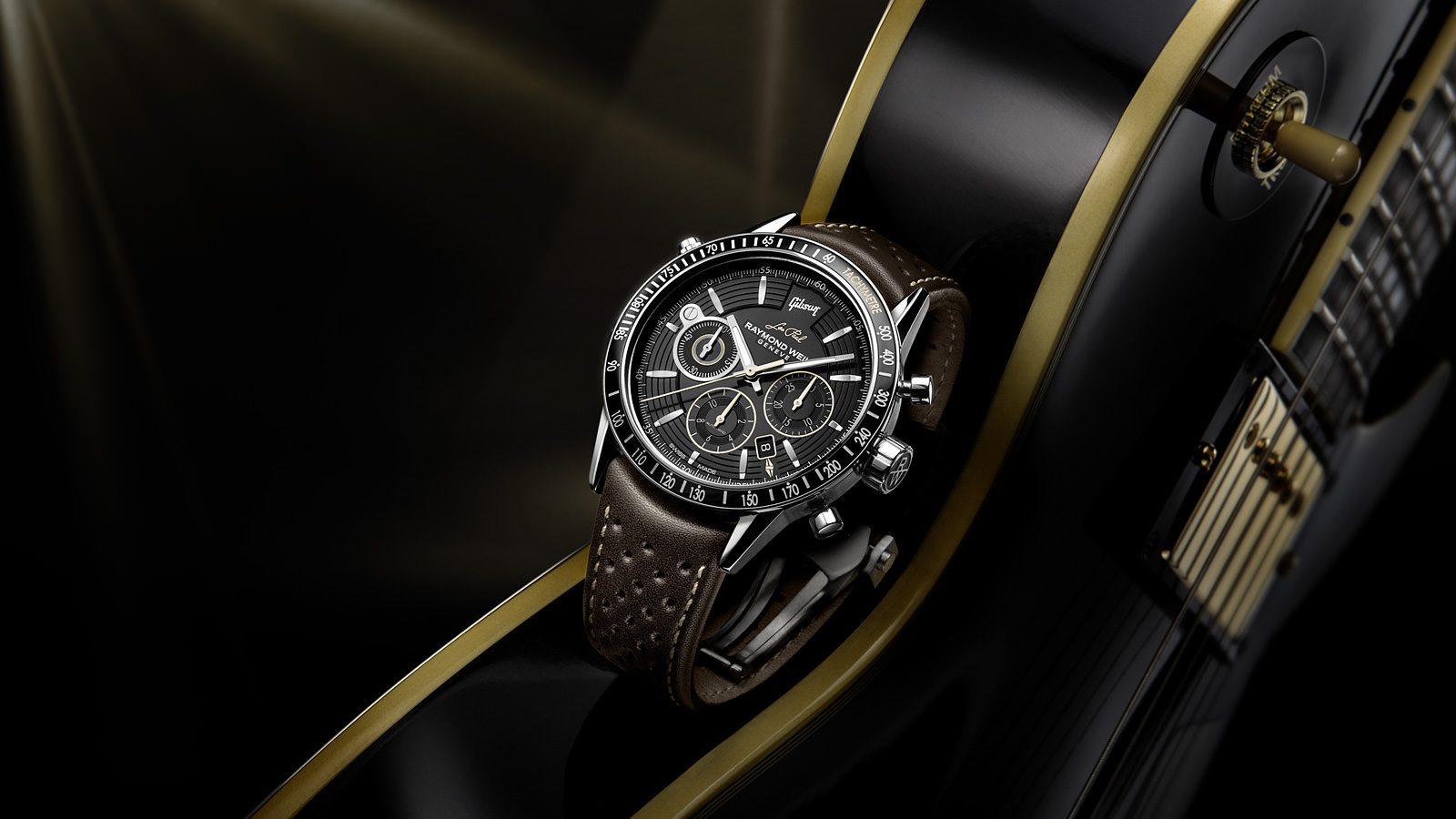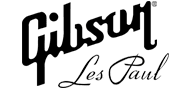 freelancer inspired by the Gibson les paul
A free-spirited watch that breaks loose from conventional codes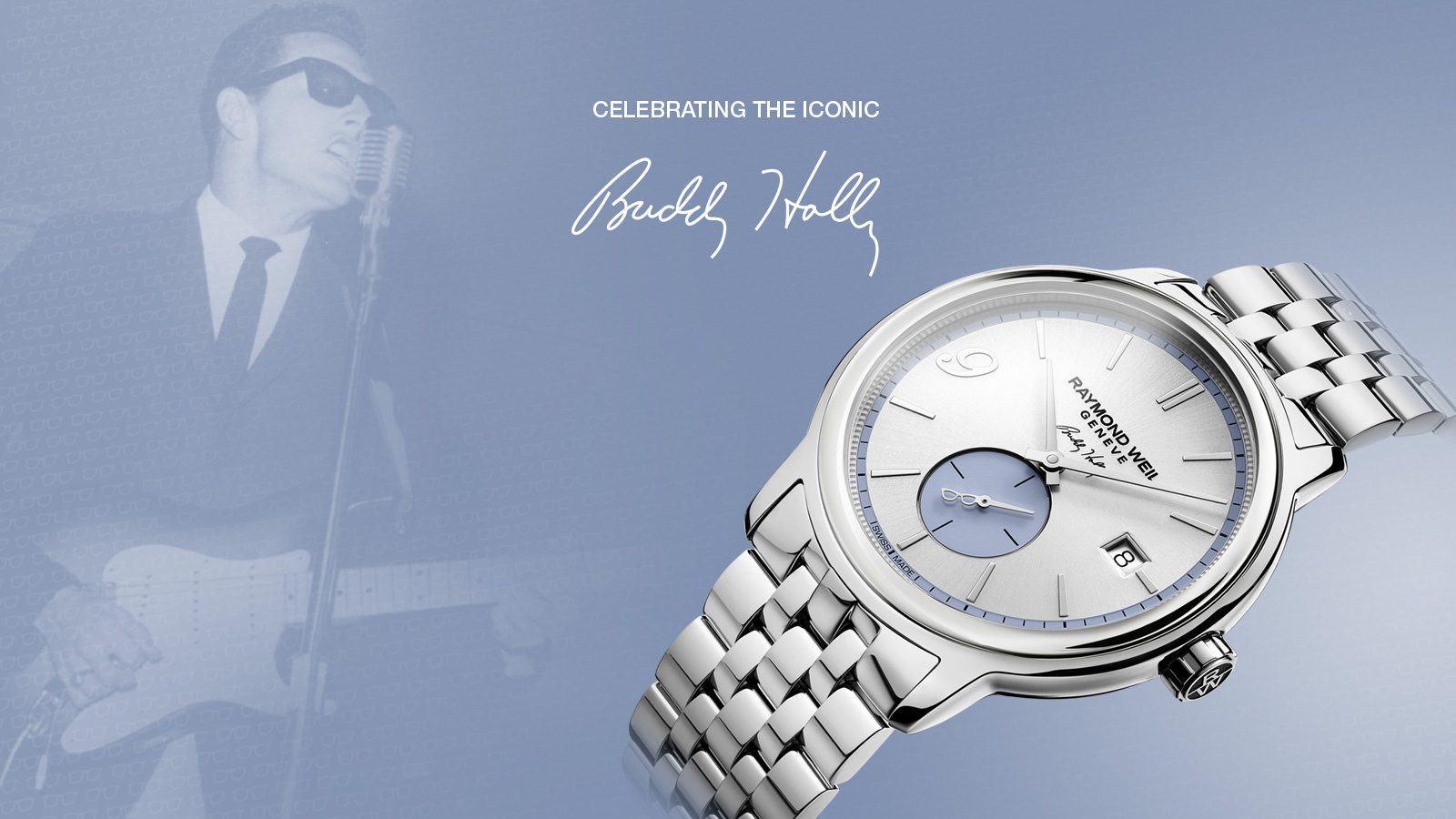 In tribute to the 80th Anniversary of 'The Founder of Rock 'N' Roll'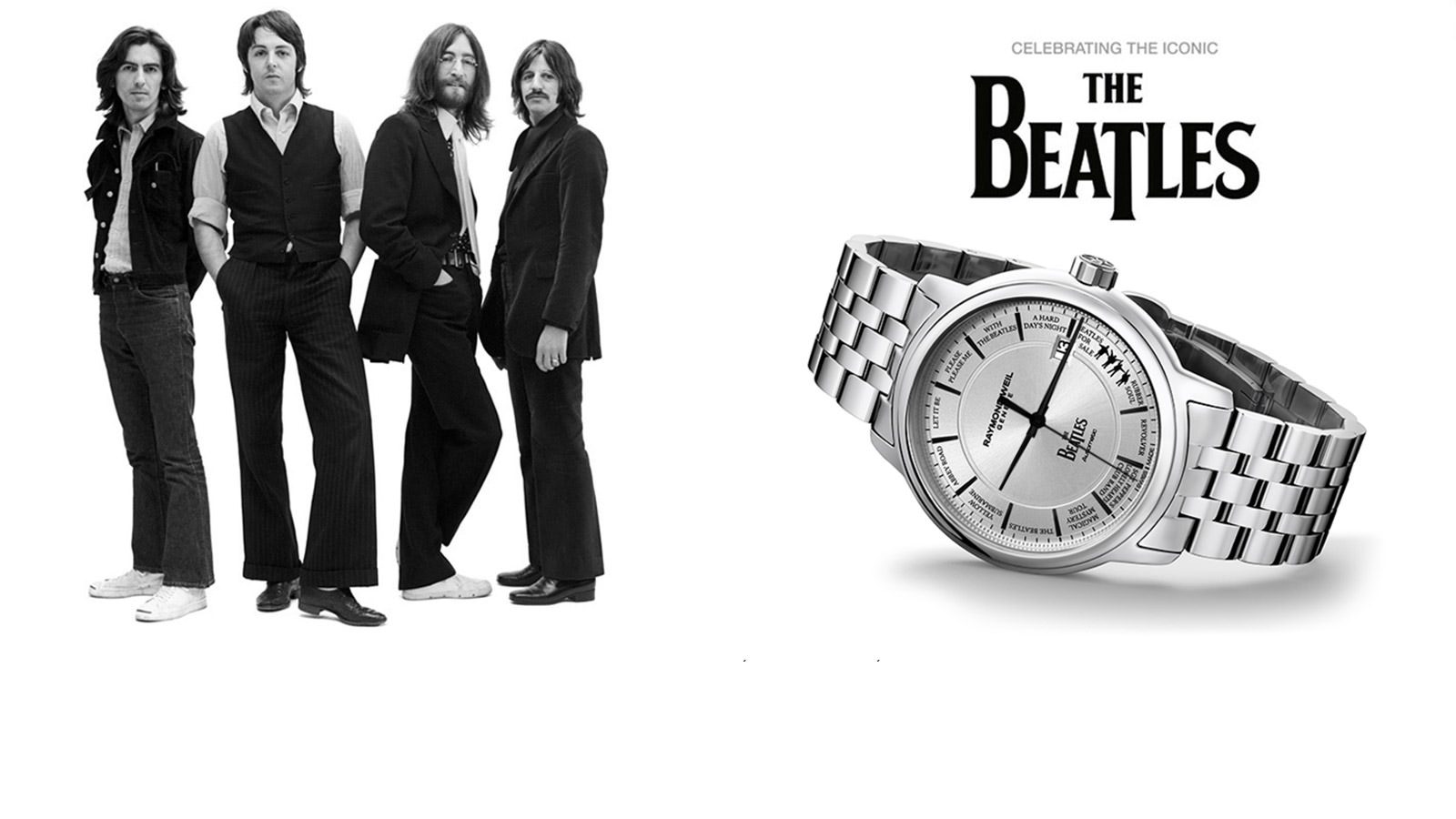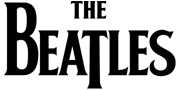 MAESTRO BEATLES LIMITED EDITION
RAYMOND WEIL celebrates its 40th anniversary with the iconic Beatles and presents a unique maestro Beatles Limited Edition.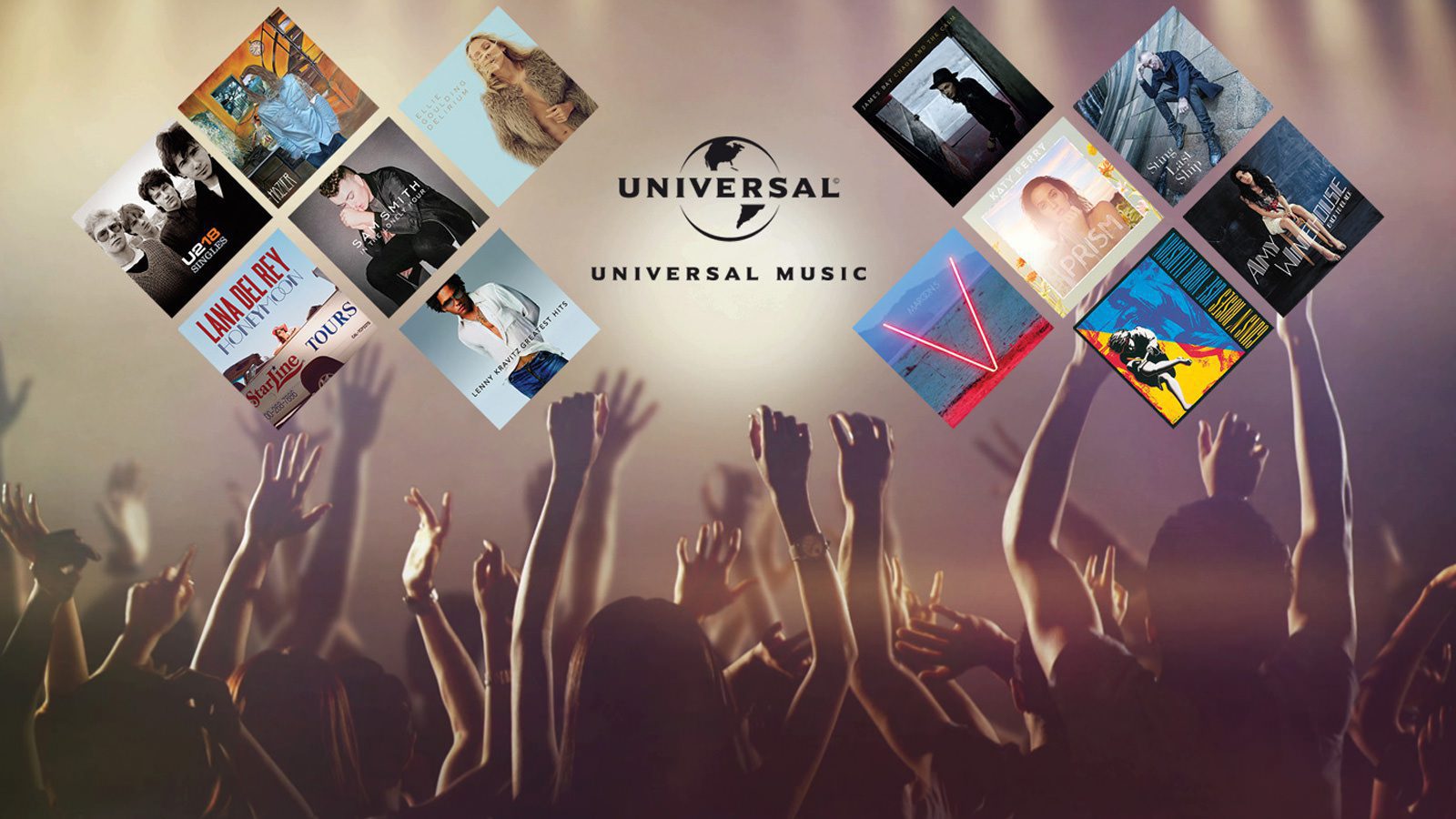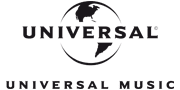 RAYMOND WEIL is proud to announce its partnership with music industry leader Universal Music Group. With this new collaboration, the Swiss watchmaker again pays tribute to its dear source of inspiration and further emphasizes its wish to support and promote music of all kinds.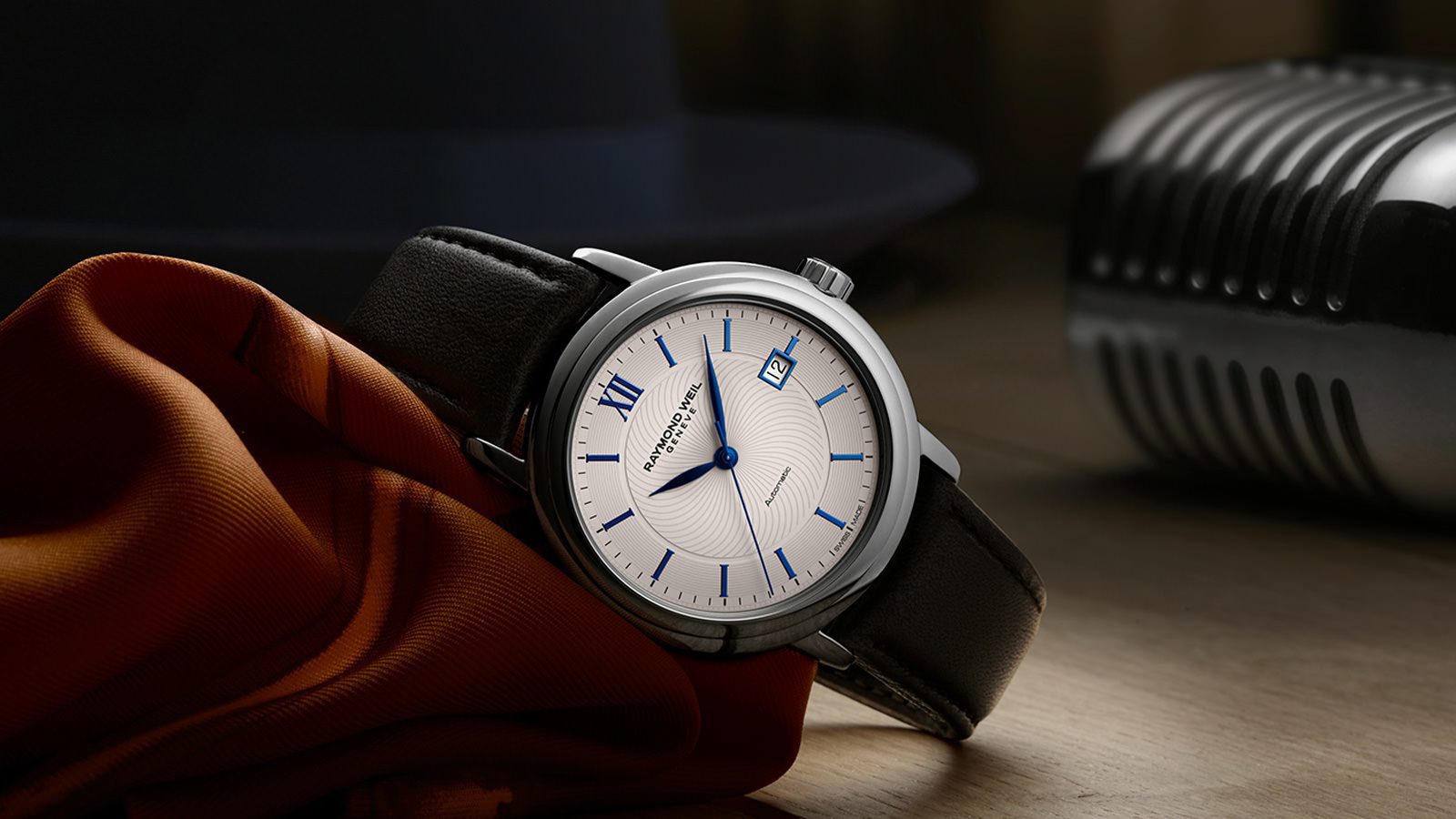 frank sinatra limited edition
To celebrate music icon Frank Sinatra's 100th anniversary, RAYMOND WEIL teamed up with the Sinatra Estate to create a watch in honour of a career constantly crowned with success.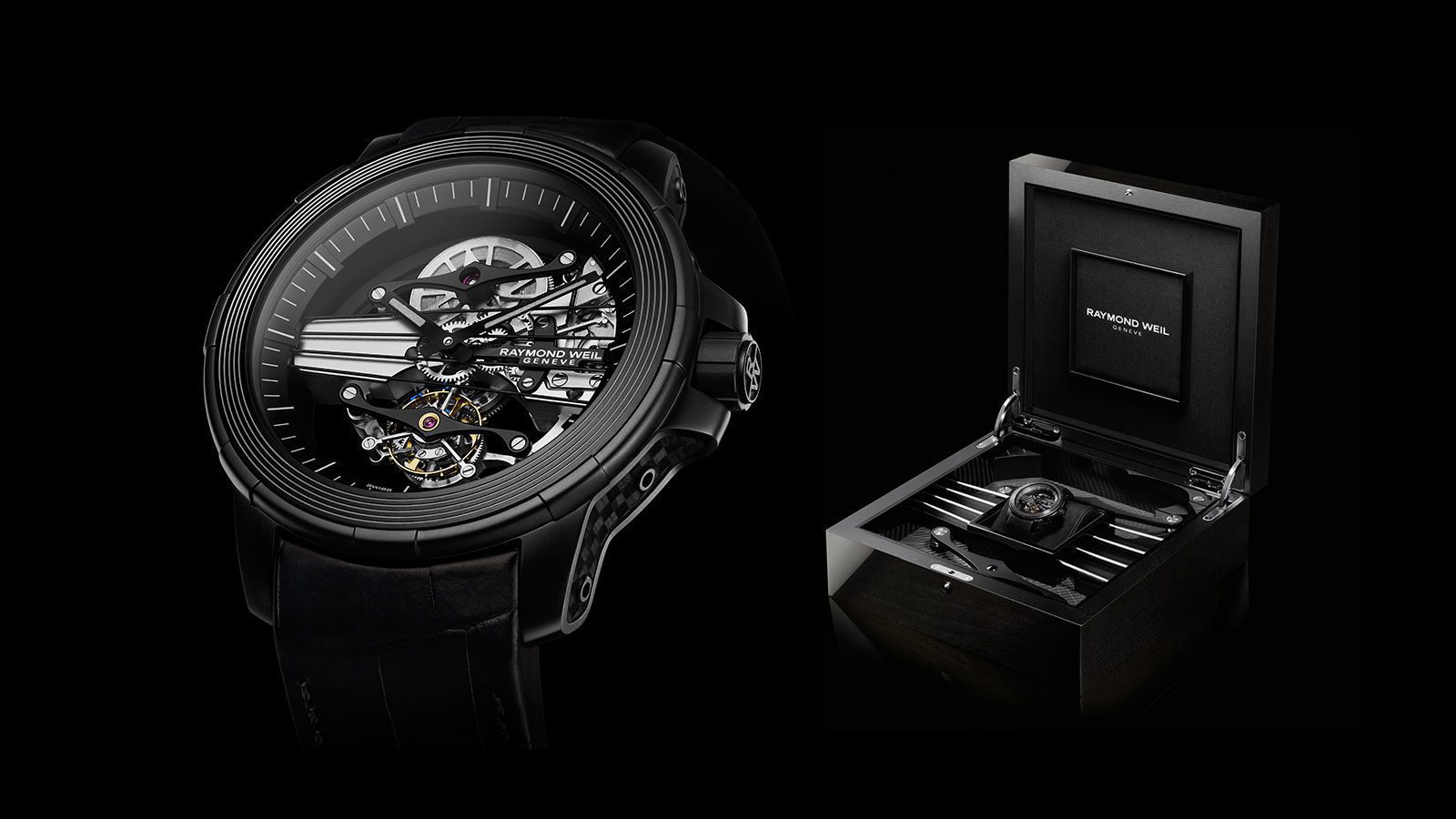 Loyal to its longstanding source of inspiration, the music-loving watchmaker creates a new star shining in the nabucco collection and testifying to its ability to combine watchmaking expertise with cutting-edge creativity.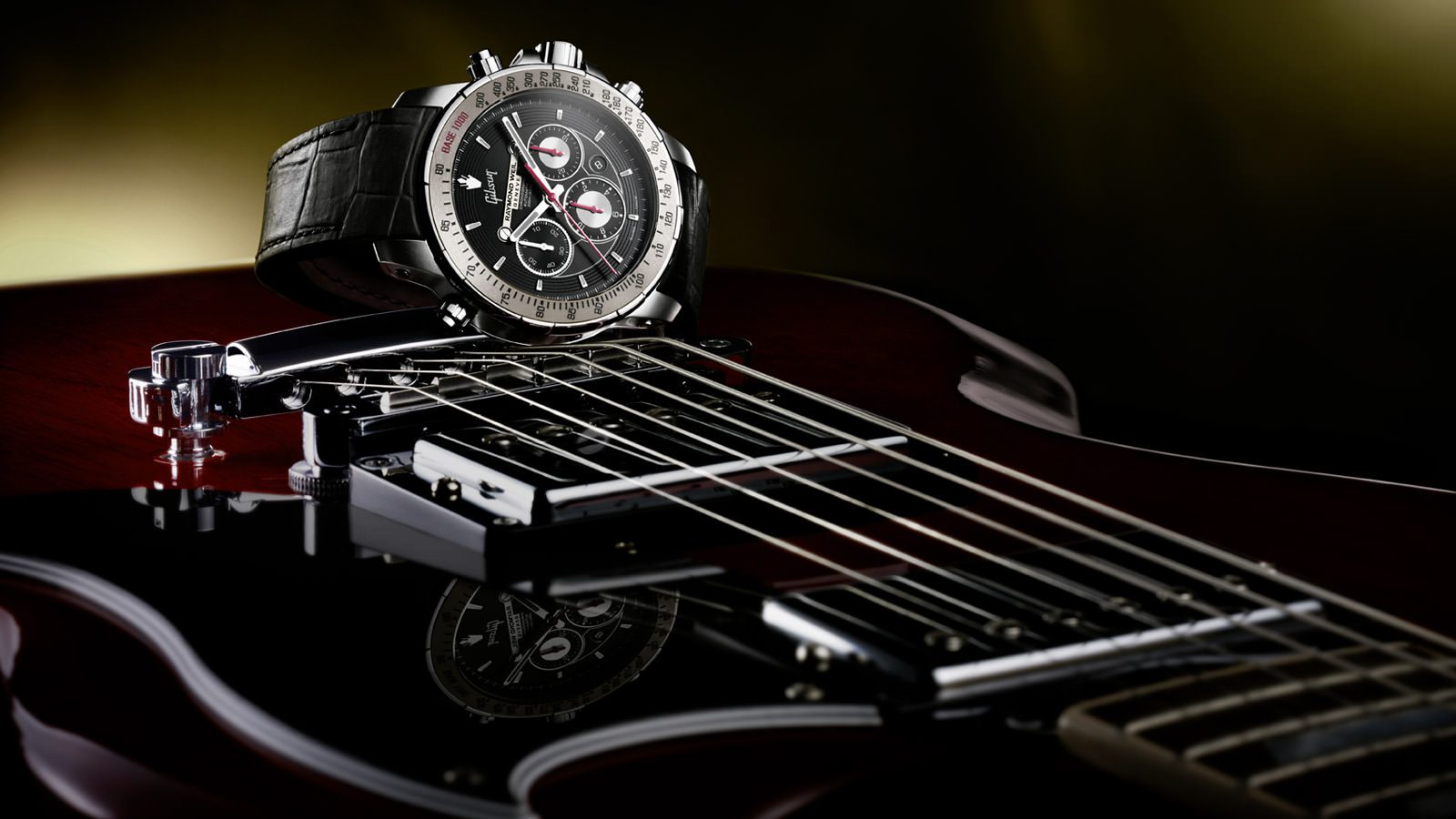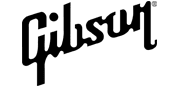 Nabucco inspired by Gibson
Created in partnership with legendary American guitar manufacturer Gibson®, a limited edition timepiece was designed to once more celebrate RAYMOND WEIL's timeless love for music of all genres.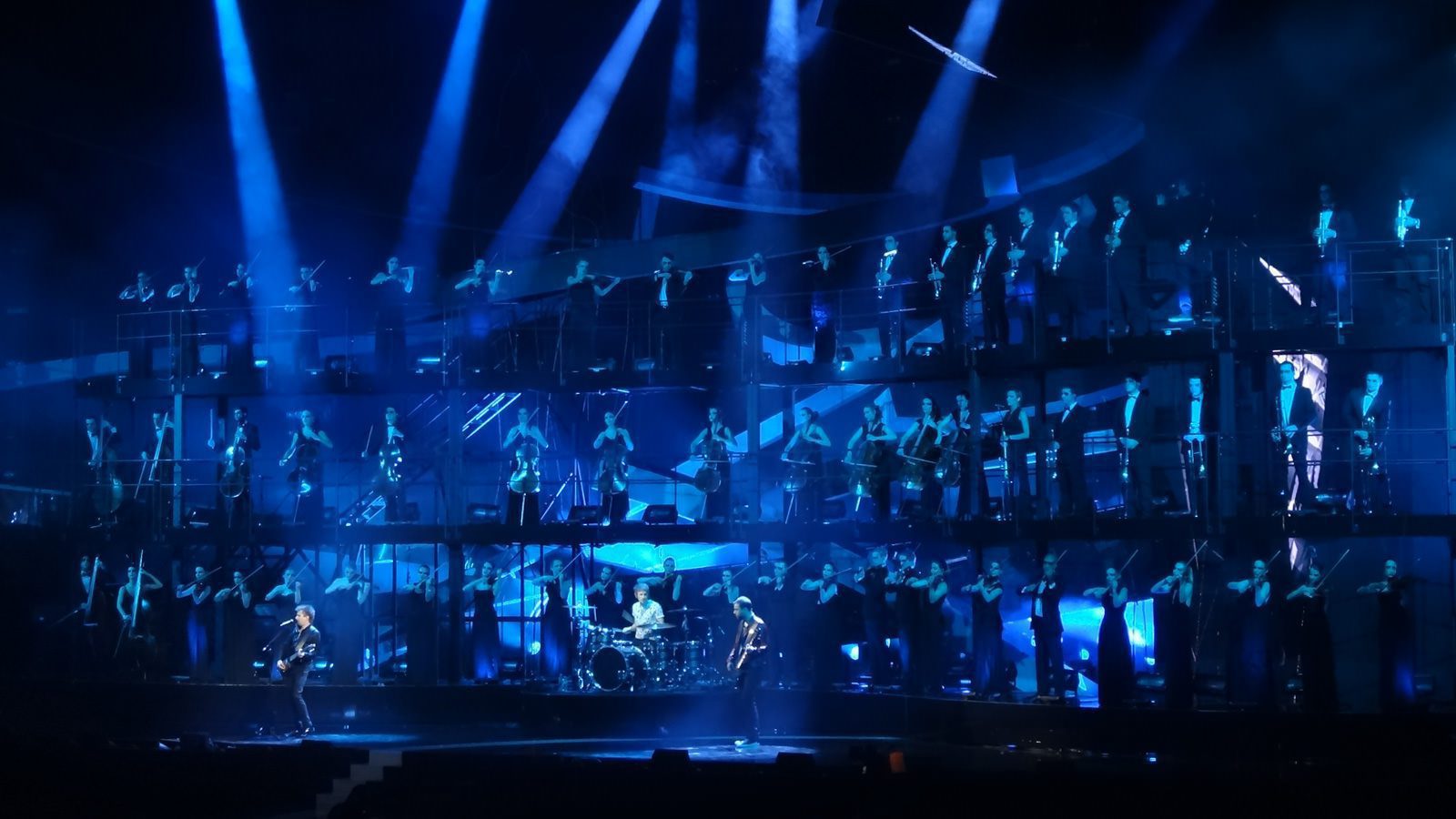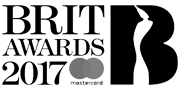 Official Watch & Timing Sponsor
The Brit Awards are the British Phonographic Industry's annual pop music awards and one of the United Kingdom's most influential music awards ceremonies. RAYMOND WEIL has been rewarding artists with Limited Edition RAYMOND WEIL Brit Award timepieces, among which Kylie Minogue, Emeli Sandé, The Klaxons and Robbie Williams to name a few.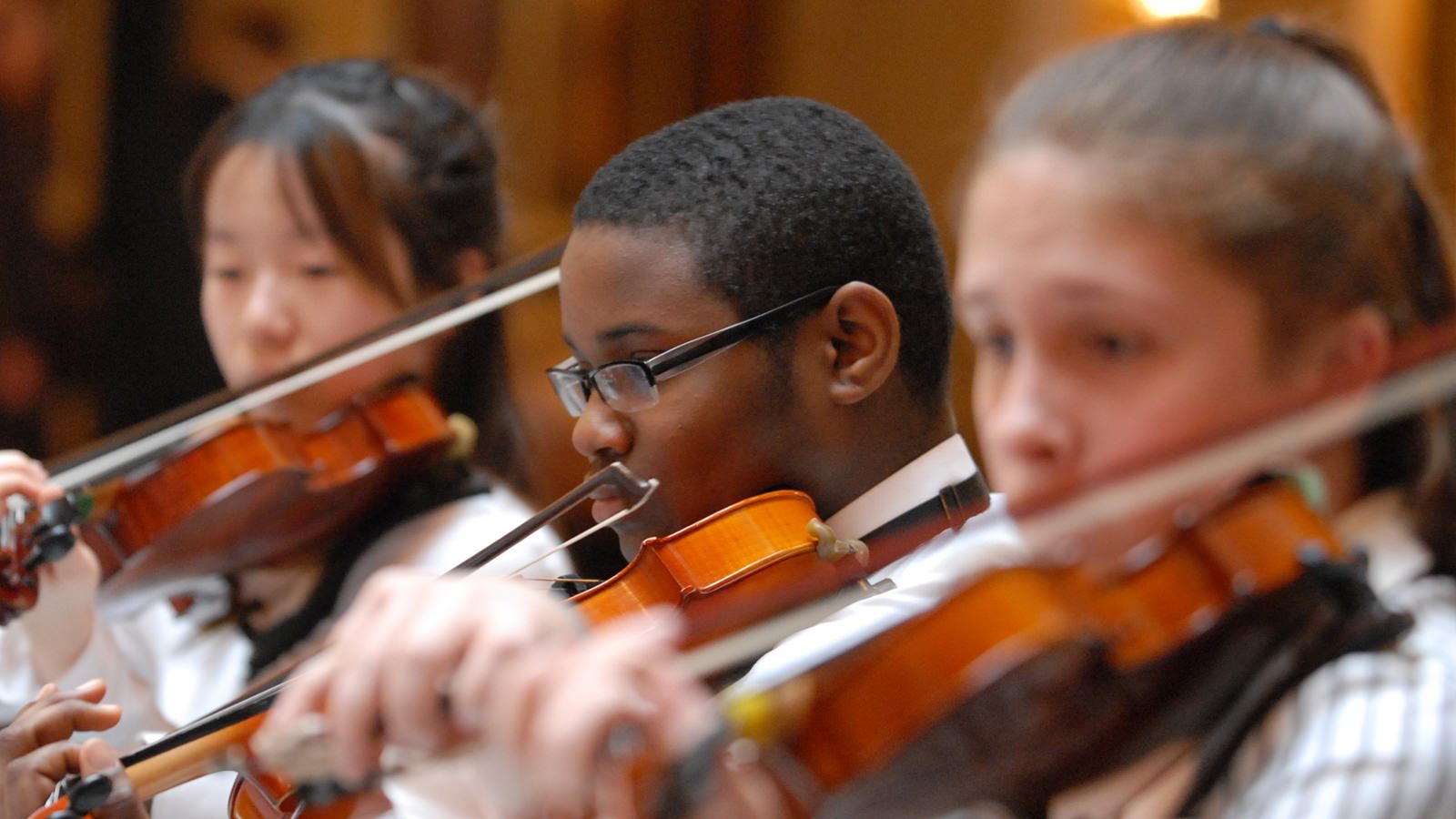 VH1 Save the Music Foundation
Keeping true to RAYMOND WEIL's support for the arts and, most importantly, music, from which the Brand draws constant inspiration, RAYMOND WEIL is thrilled to support and partner with USA-based charity VH1 Save The Music Foundation. This non-profit organization dedicated to restoring instrumental music education programs, ensures that every child has access to a complete education that includes the benefits of music instruction.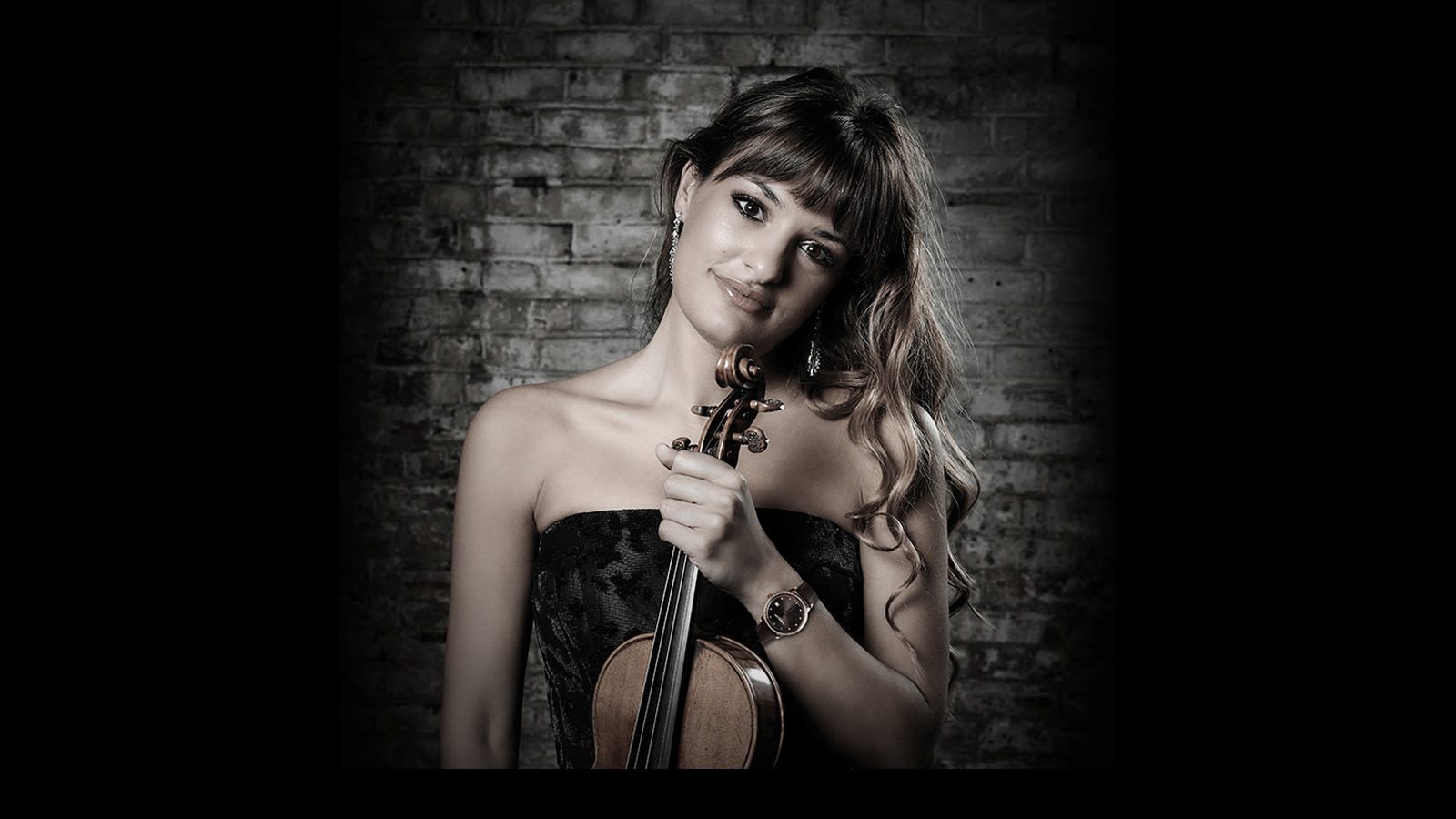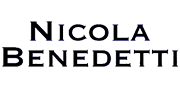 nicola benedetti special edition
RAYMOND WEIL is pleased to partner with internationally renowned classic violinist Nicola Benedetti to present a new ladies toccata limited to 300 units. Nicola Benedetti is one of the most sought-after violinists of her generation. At 29 years old, she appears with many of the world's leading orchestras festivals and conductors and has already won multiple awards over the course of her career, including the BBC Young Musician award and two Classic BRIT awards.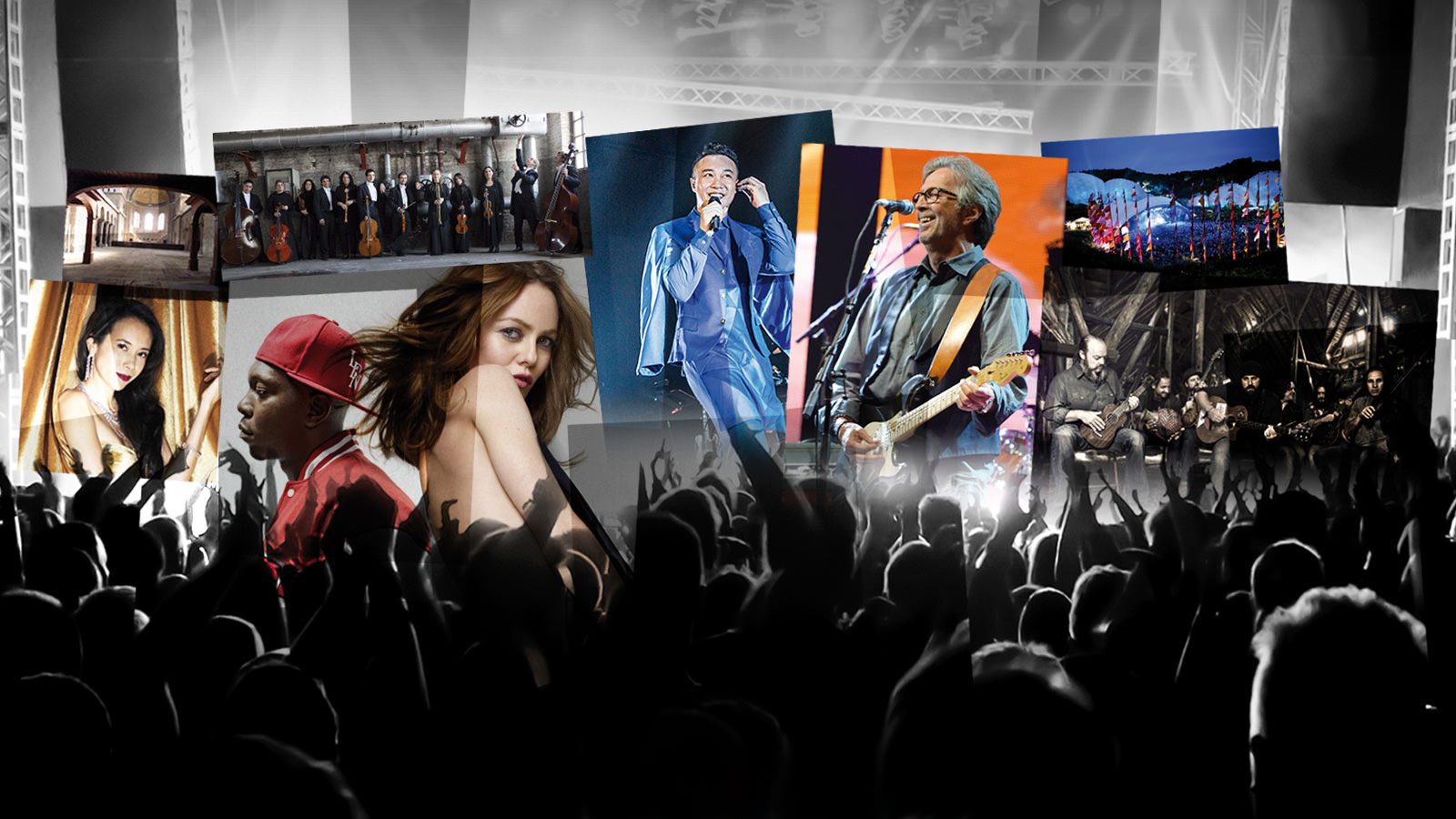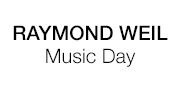 As part of its ongoing wish to support music of all kinds, RAYMOND WEIL invites its aficionados to take part in a unique contest on the Brand's website to win exclusive tickets for highly awaited music concerts around the world, each year on June 21st.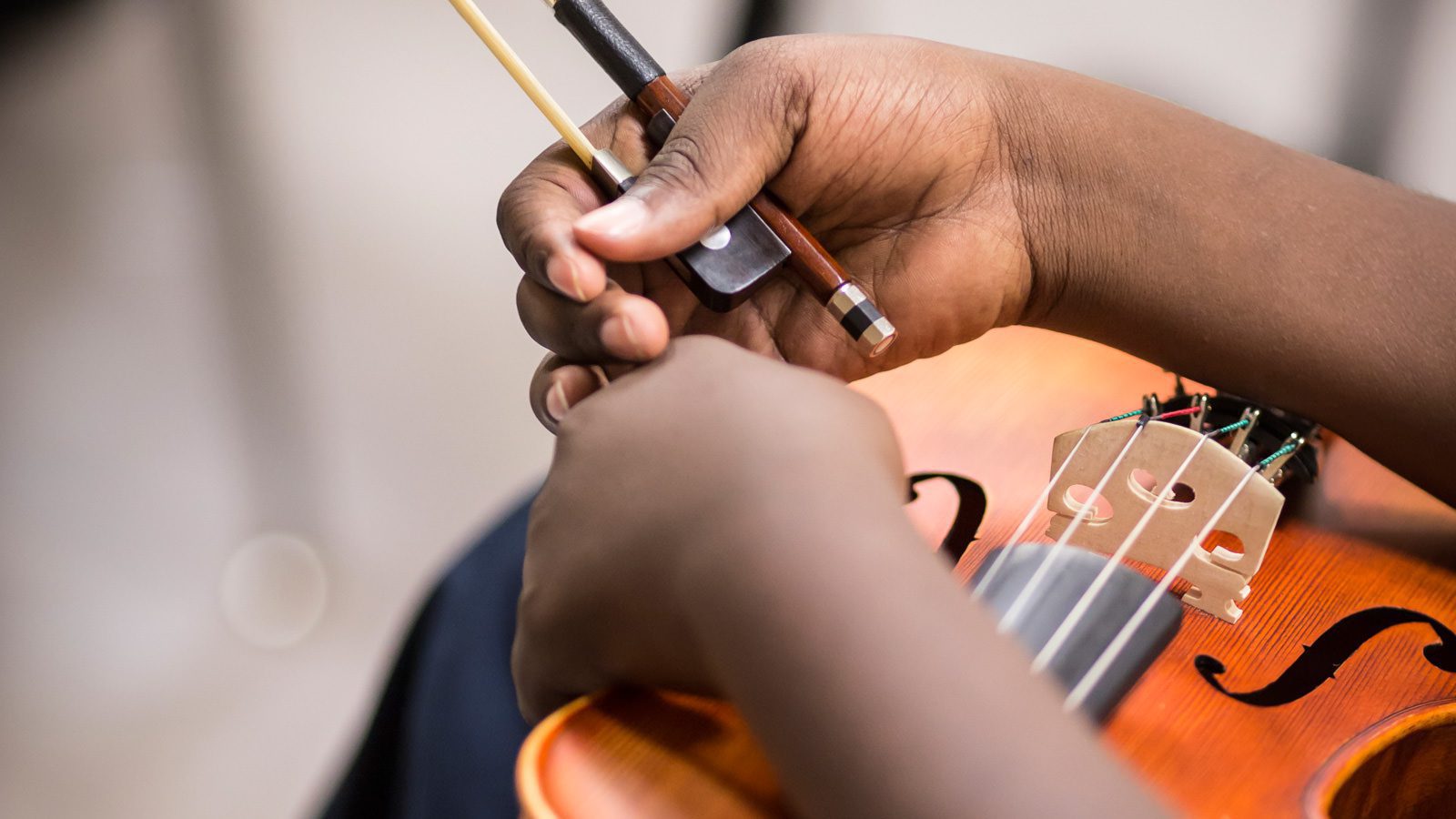 Nordoff Robbins is a national music charity dedicated to transforming the lives of vulnerable children and adults across the UK. Each year, Nordoff Robins organises the O2 Silver Clef Awards to honour musicians whilst raising funds for the charity. RAYMOND WEIL has been a partner of the charity since 2000 has supported the Best International Artist Award, which has been received by the likes of Kylie Minogue, Michael Bublé, Swedish House Mafia and Kelis in past years.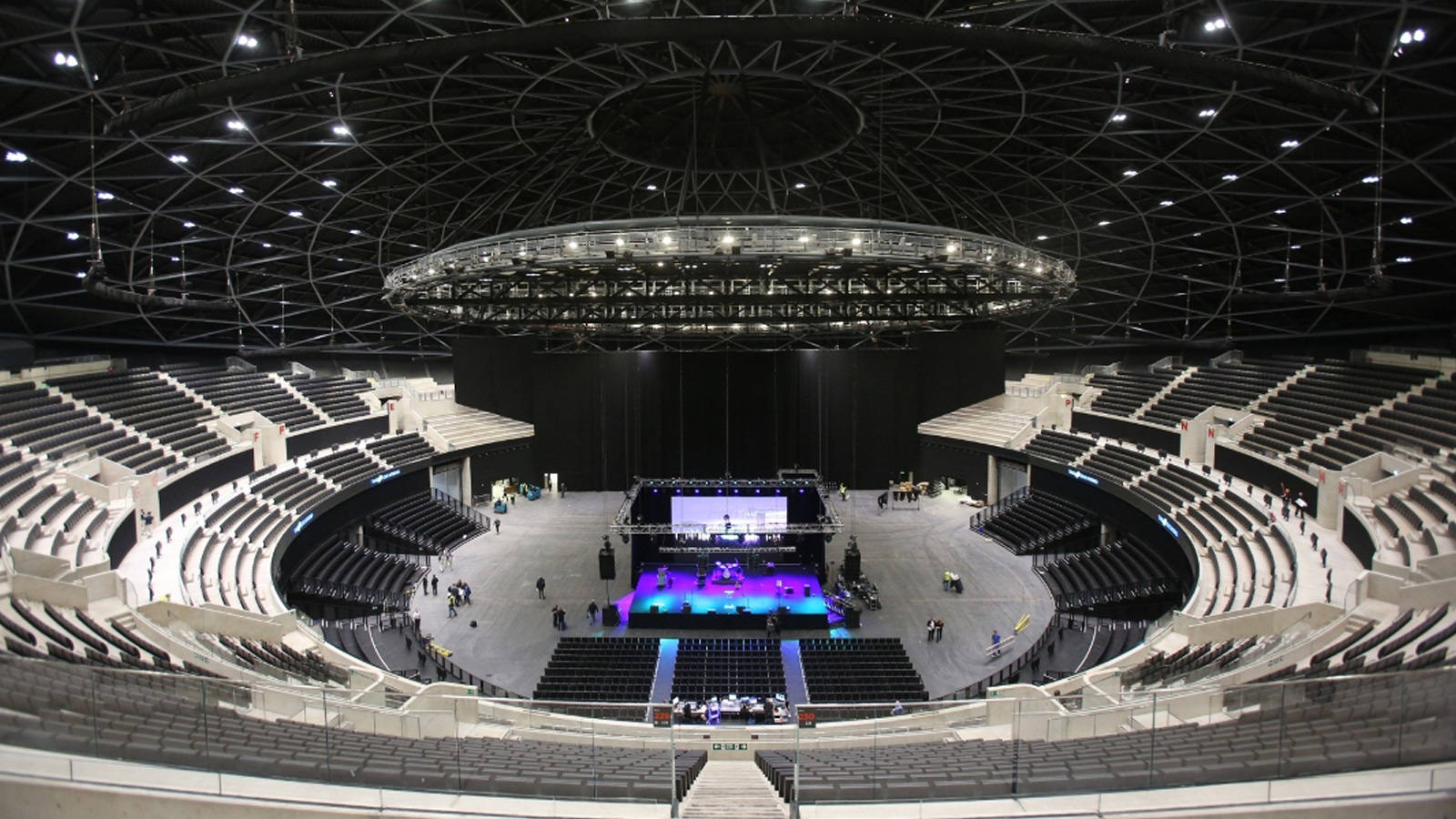 RAYMOND WEIL is the Official Timing Partner of Scotland's newest landmark, the SSE Hydro. The SSE Hydro is a major exhibition, conference and entertainments complex of significant national scale. Standing at 45m high and modelled on Greek and Roman amphitheatres, it has become the newest landmark on Glasgow's skyline and meant to host major concerts and musical events. Designed from the inside out, visitors will enjoy acoustics of the highest standard. The SSE Hydro will attract an audience of one million visitors each year, which positions it as the fifth busiest entertainment arena in the world.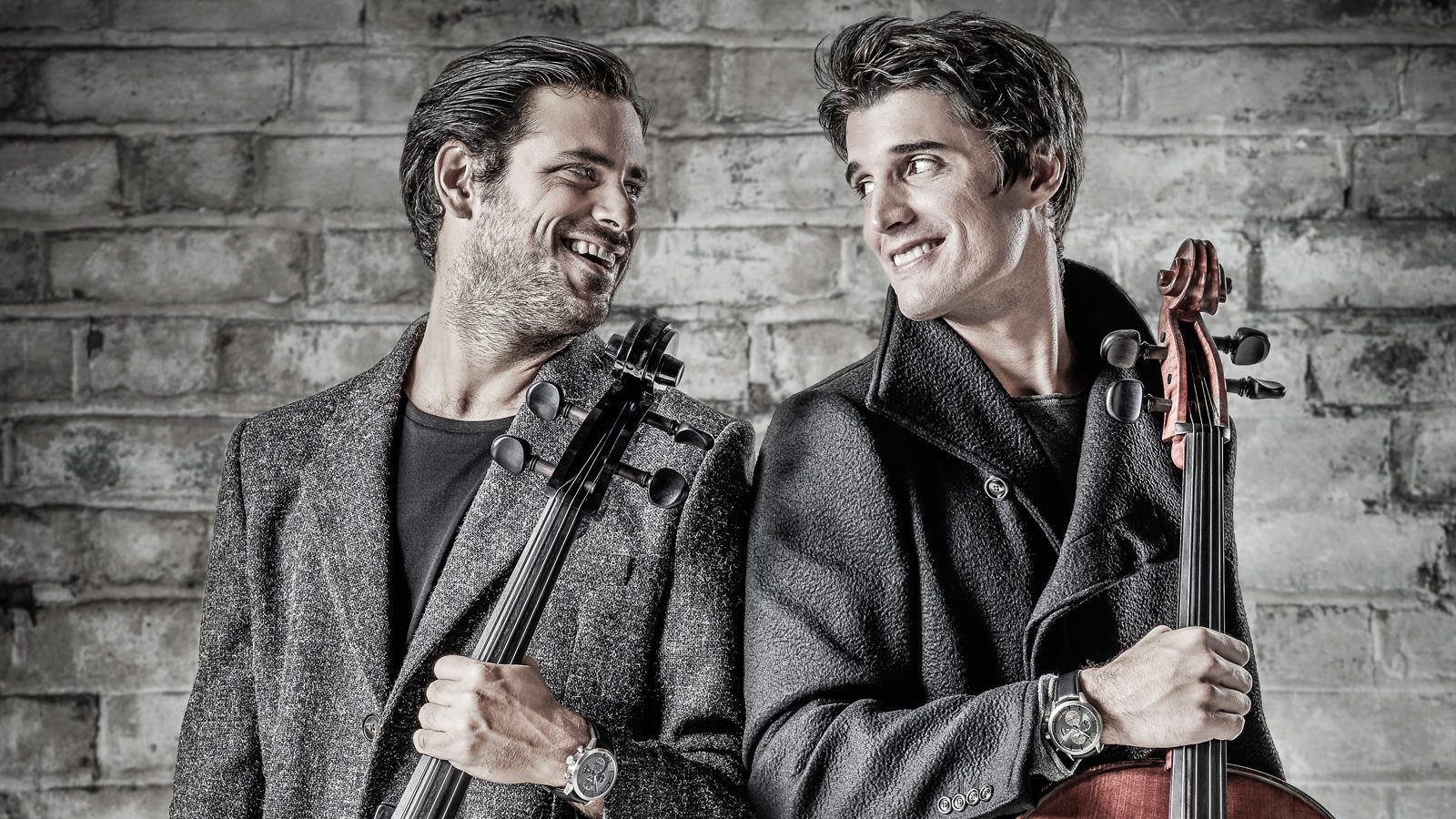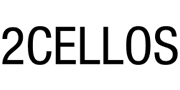 cello music special edition
The freelancer Cello Music Special Edition Watch was created in partnership with virtuoso cello duo 2Cellos. They first attracted attention when they posted a cover of Michael Jackson's Smooth Criminal to YouTube. The video went viral and they were invited to perform on major TV shows and were consequently contacted by Elton John who offered them to tour the world with him.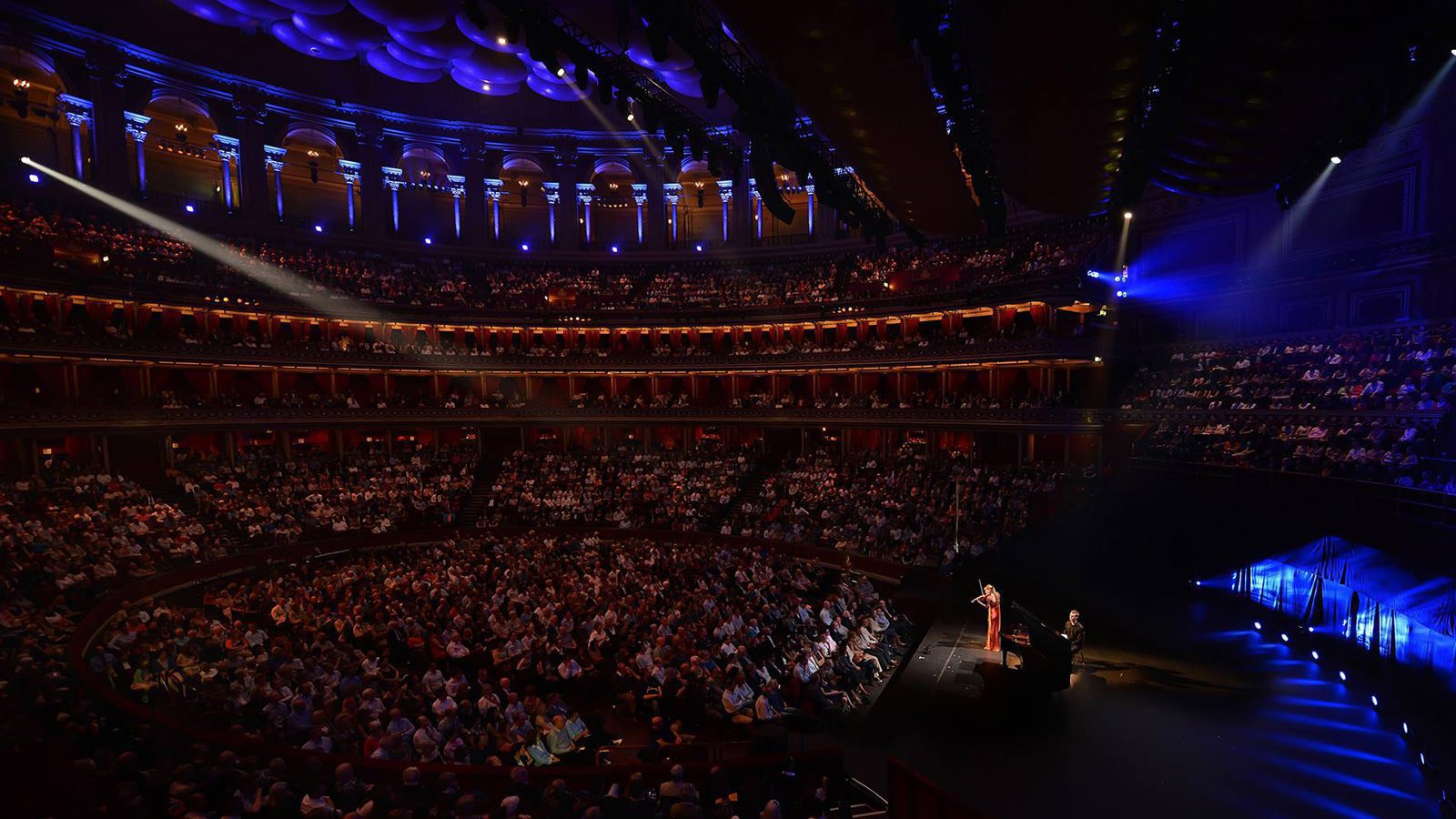 The partnership with the British Phonographic Industry through the Brit Awards was reinforced when RAYMOND WEIL became a partner of the Classic Brit Awards. The Classic Brit Awards is an annual awards ceremony held in the United Kingdom rewarding classical musicians and performers. Inaugurated in 2000, the ceremony takes place at the Royal Albert Hall each May.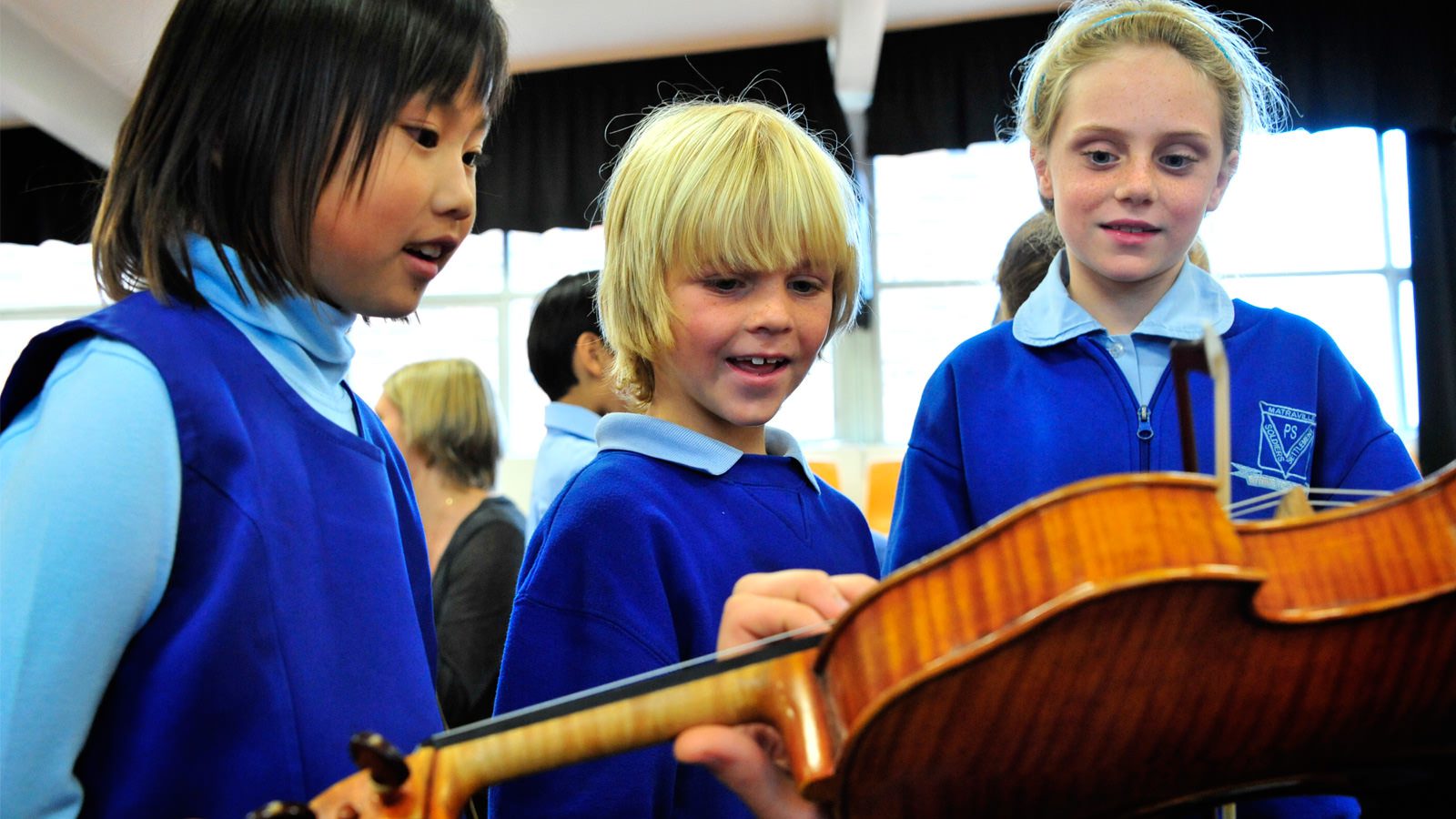 AUSTRALIAN CHILDREN'S MUSIC FOUNDATION
In the continuity of its involvement with music, RAYMOND WEIL has partnered with Australian non-profit organisation ACMF that provides musical instruments and programmes for disadvantaged and Indigenous children and youth in school, remote communities and juvenile justice centres across Australia.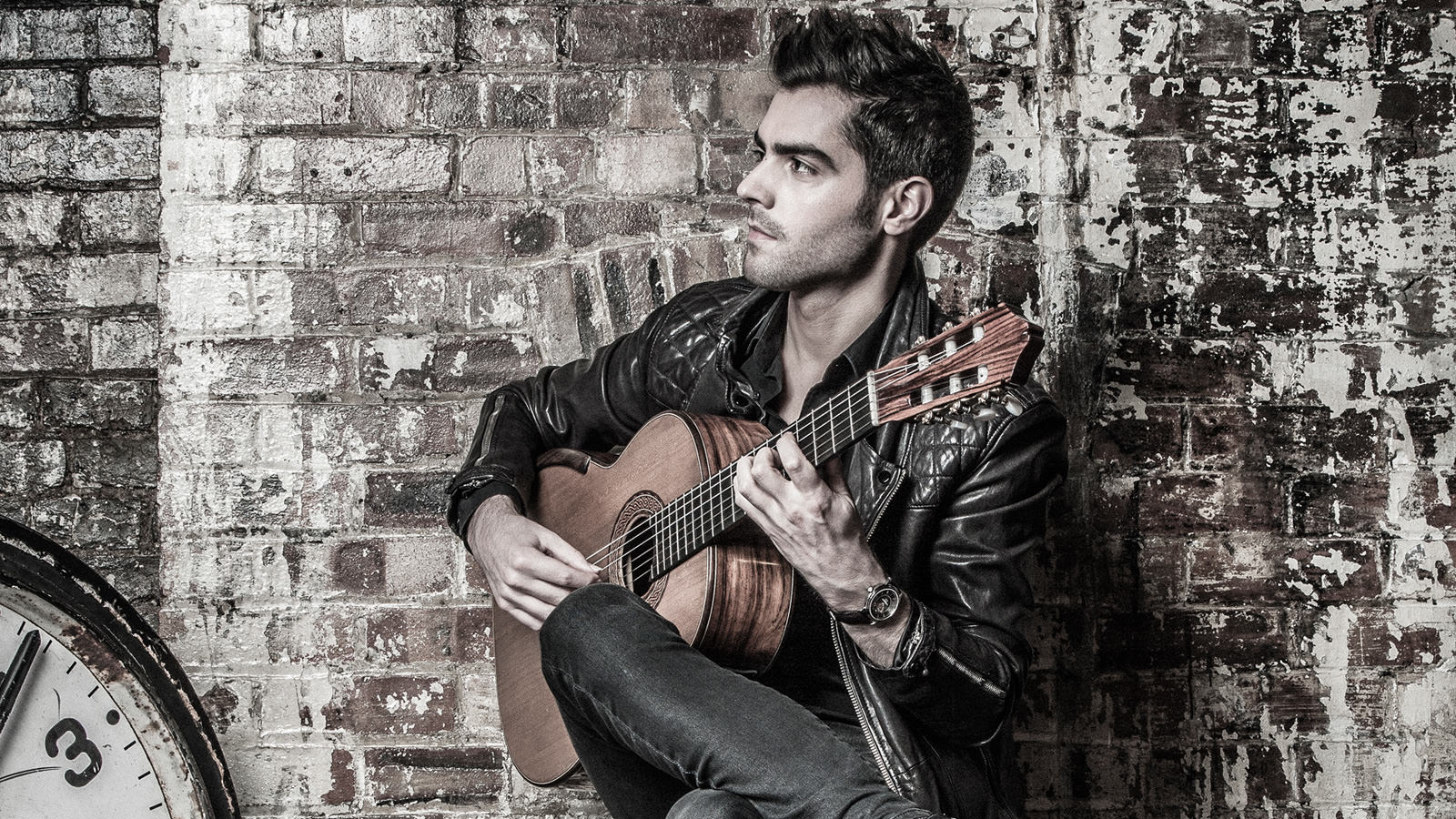 guitar music special edition
Designed in partnership with award winning classical guitarist Miloš Karadaglić, this special edition maestro timepiece was created to help raise funds and awareness for the Mladost Orphanage in Bijela, Montenegro.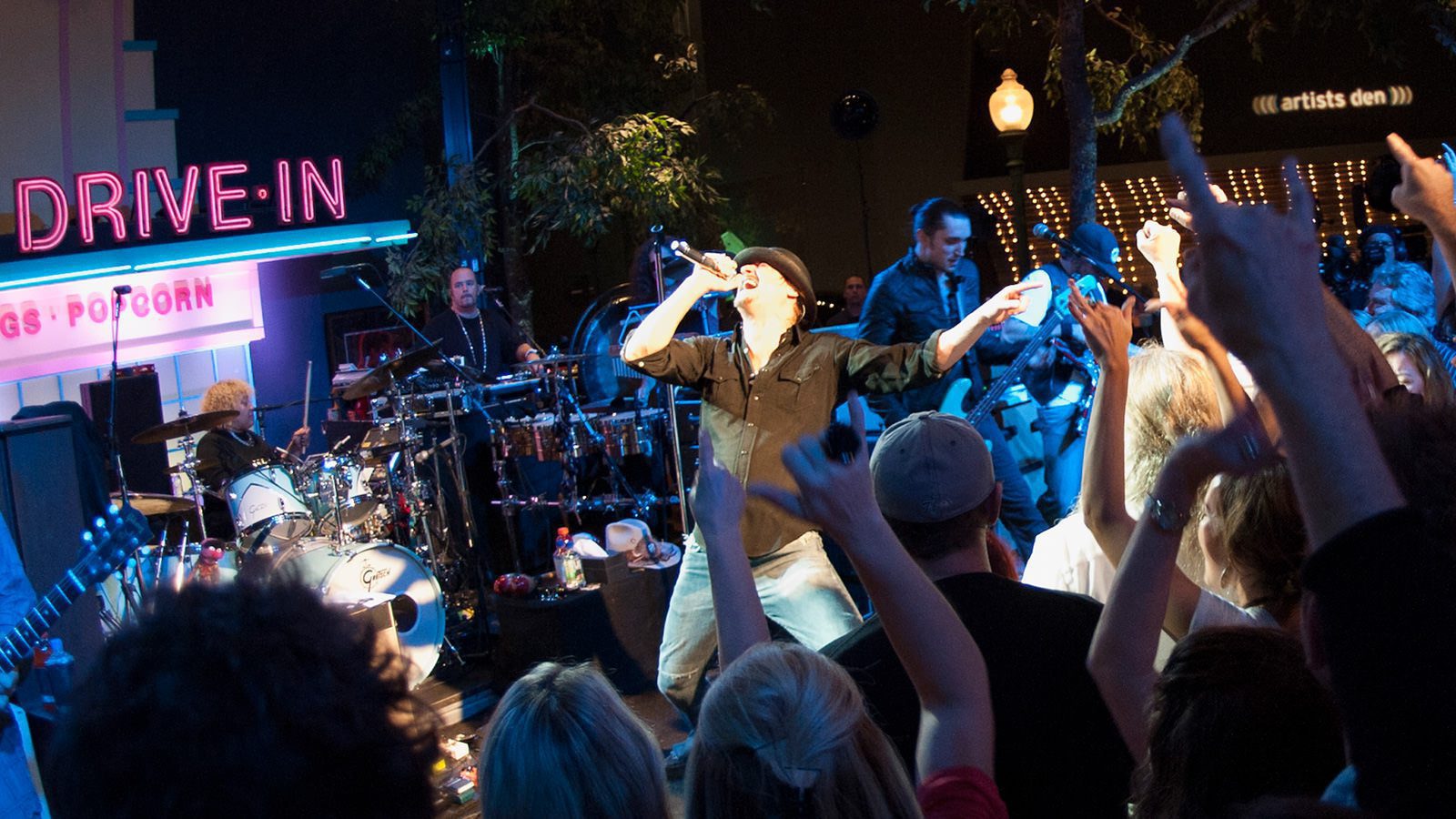 live from the artists den
RAYMOND WEIL was a proud partner of American music platform Artists Den, best known for presenting Live From The Artists Den, a televised concert series featuring extraordinary artists performing in non-traditional, often historic settings.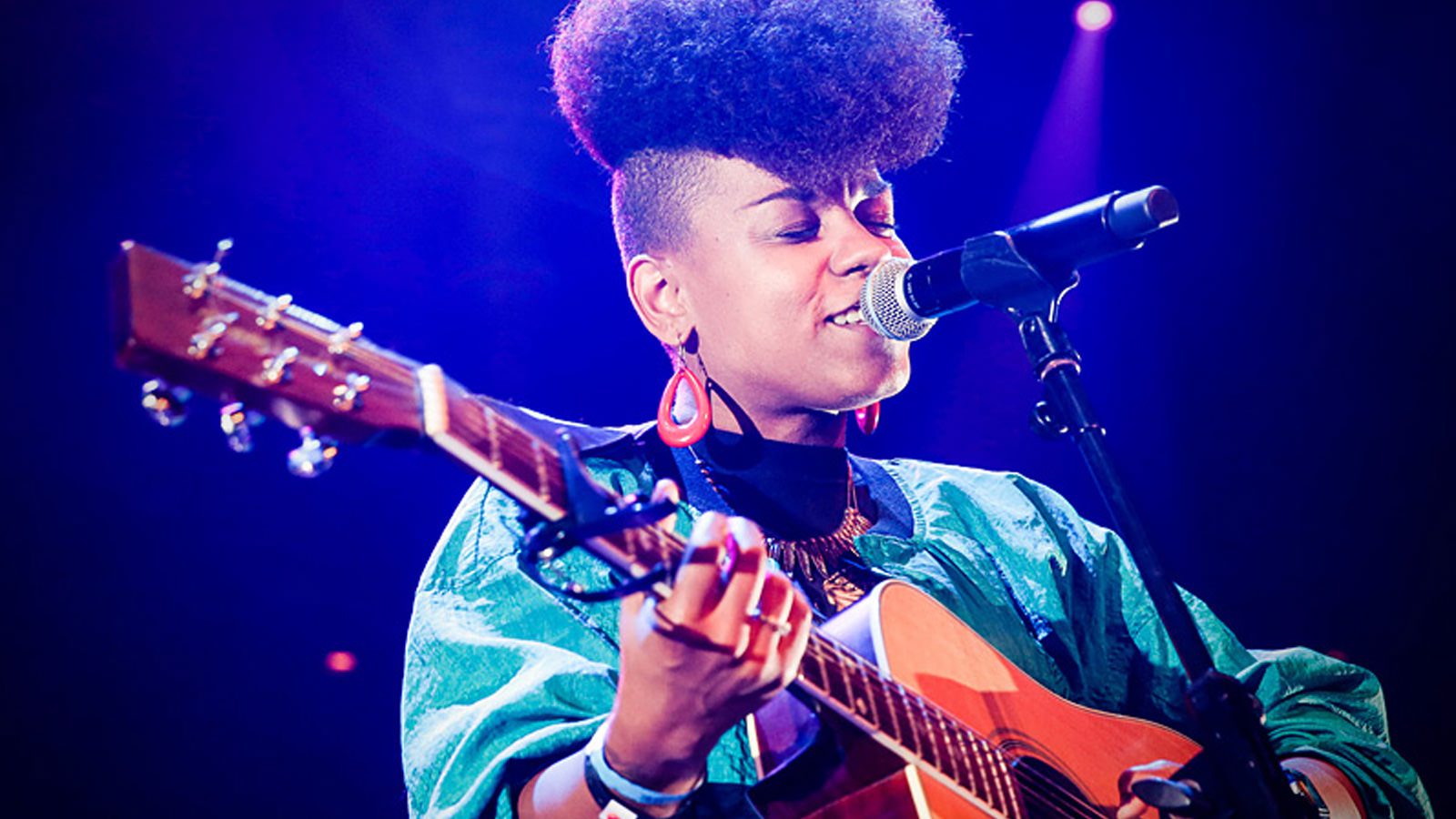 The Mayor of London's London Music Awards is a glittering celebration of the capital's musical talent to recognize the achievements of London's aspiring young musicians, its rising stars and legendary performers. RAYMOND WEIL's involvement with the London Music Awards has spanned from years of supporting the music industry.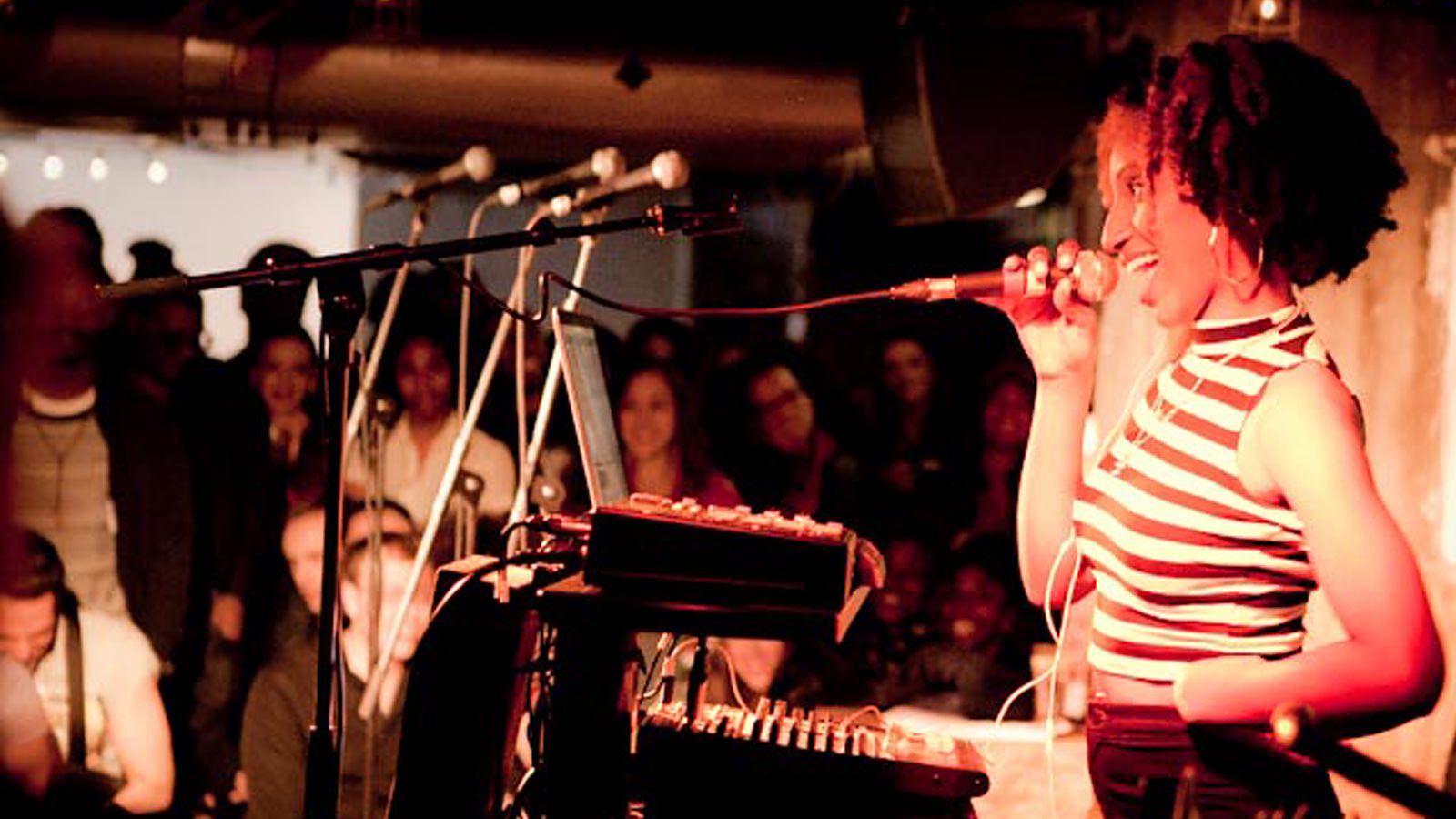 Wired is an exciting music project founded by Kate Bond and Michael Duke that is known by many labels and industry professionals as the night that introduces artists before they break. Over the past four years Wired made itself at home at East London's premier members club Shoreditch House and sister club.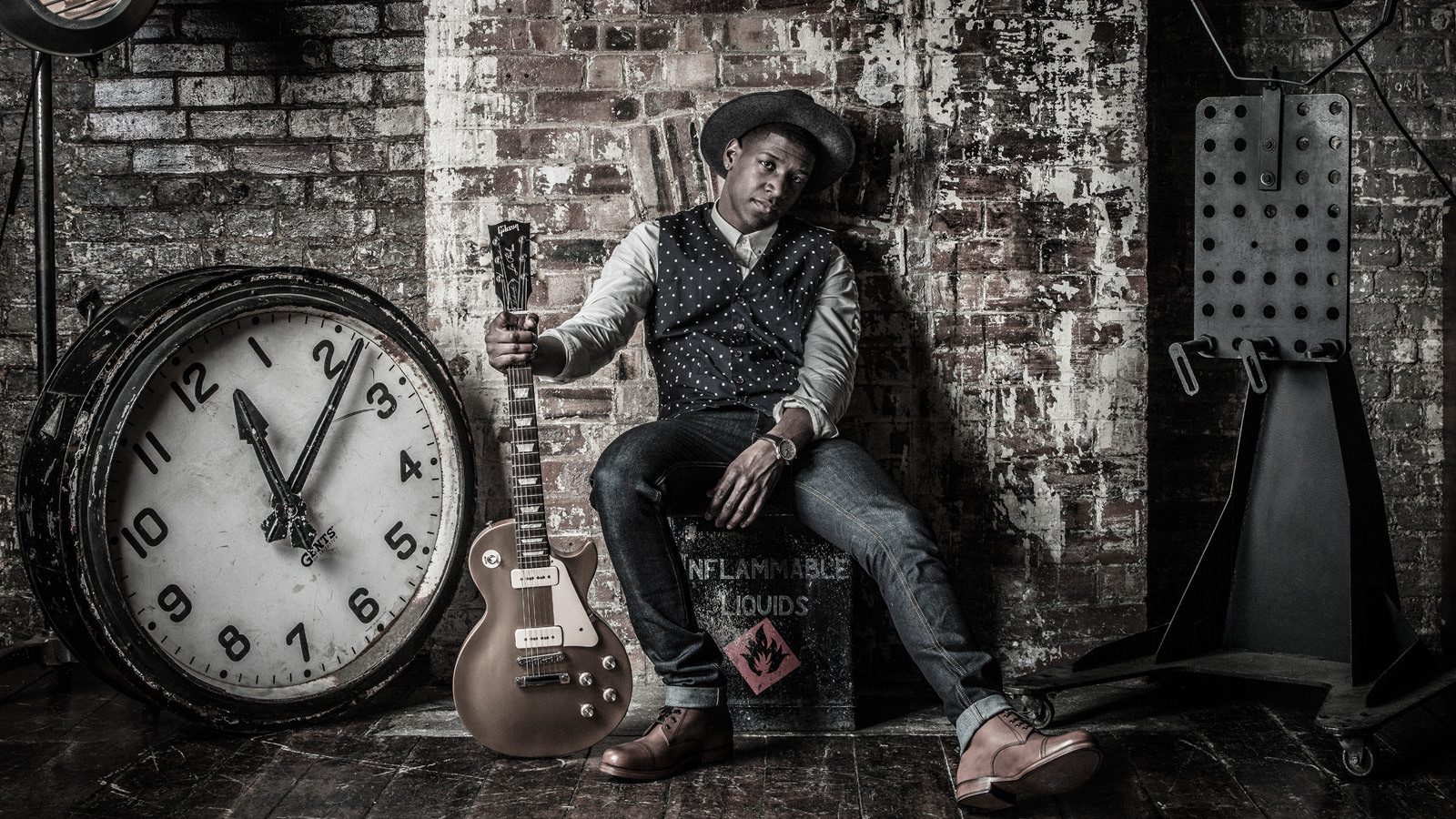 electro music special edition
The freelancer special edition watch is the result of a collaboration with English singer-songwriter, multi-instrumentalist and record producer Labrinth, who designed this timepiece to help raise funds for KORI, the cultural arts and education charity based in the Borough of Haringey, London.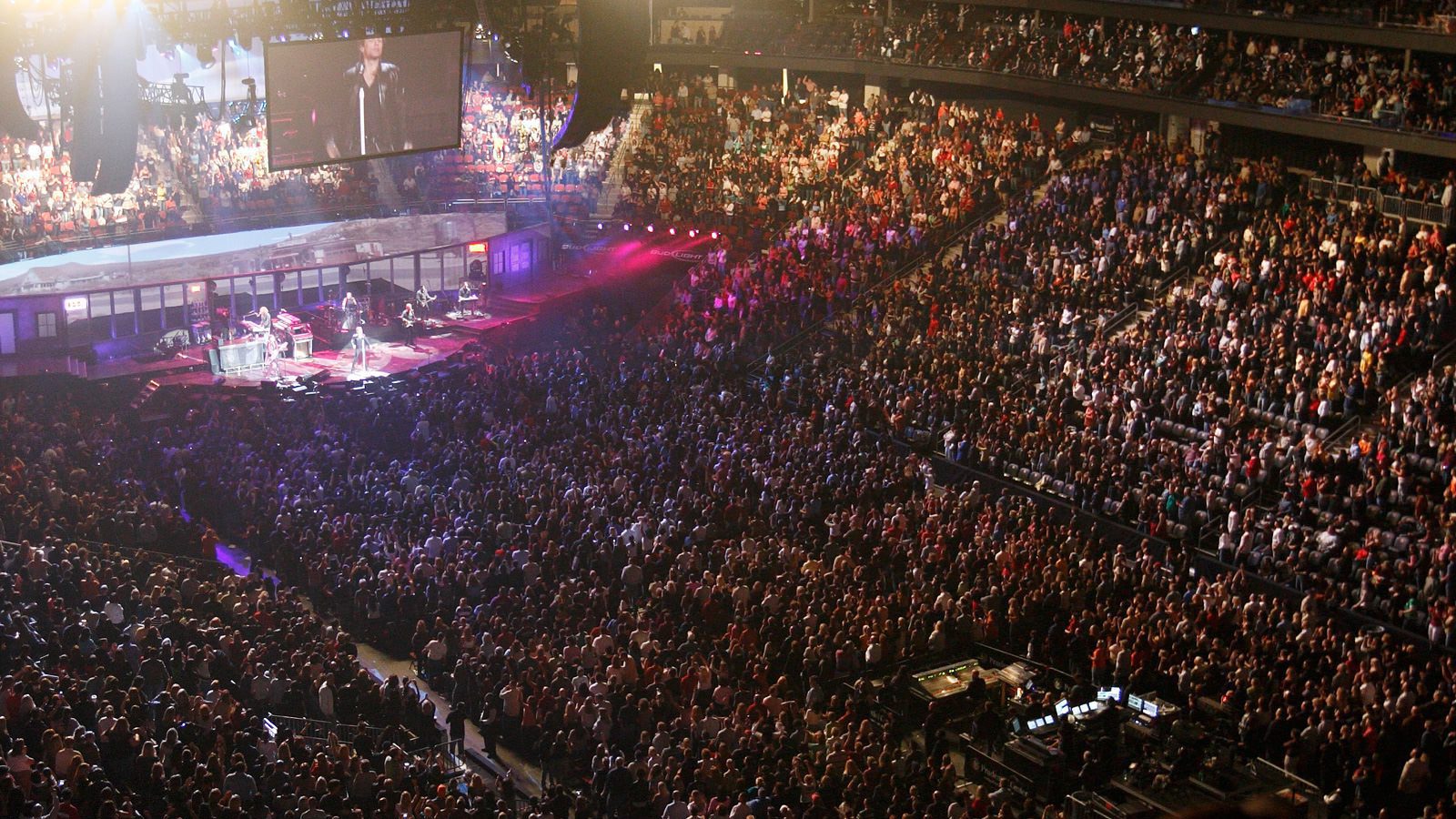 RAYMOND WEIL was the official timepiece of the Prudential Center in Newark, United States – a world-class entertainment destination. This was the Brand's first sponsorship of a music arena in North America.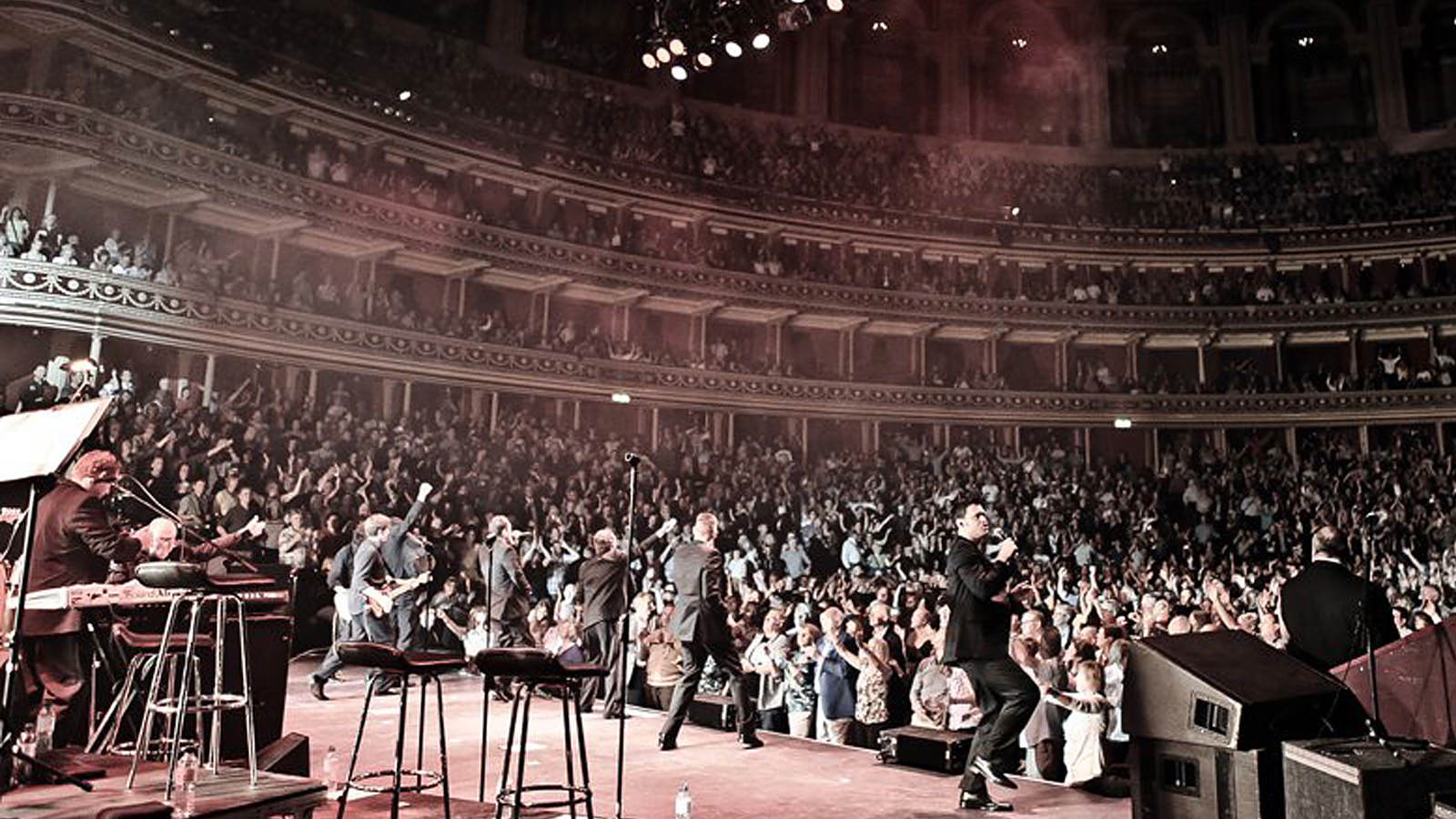 RAYMOND WEIL has always placed music at the centre of its universe and seen it as a force that brings people together and changes the world. This vision shared by the Swiss watchmaker and the prestigious venue led to a partnership where RAYMOND WEIL became the Official Timing Partner of the Royal Albert Hall.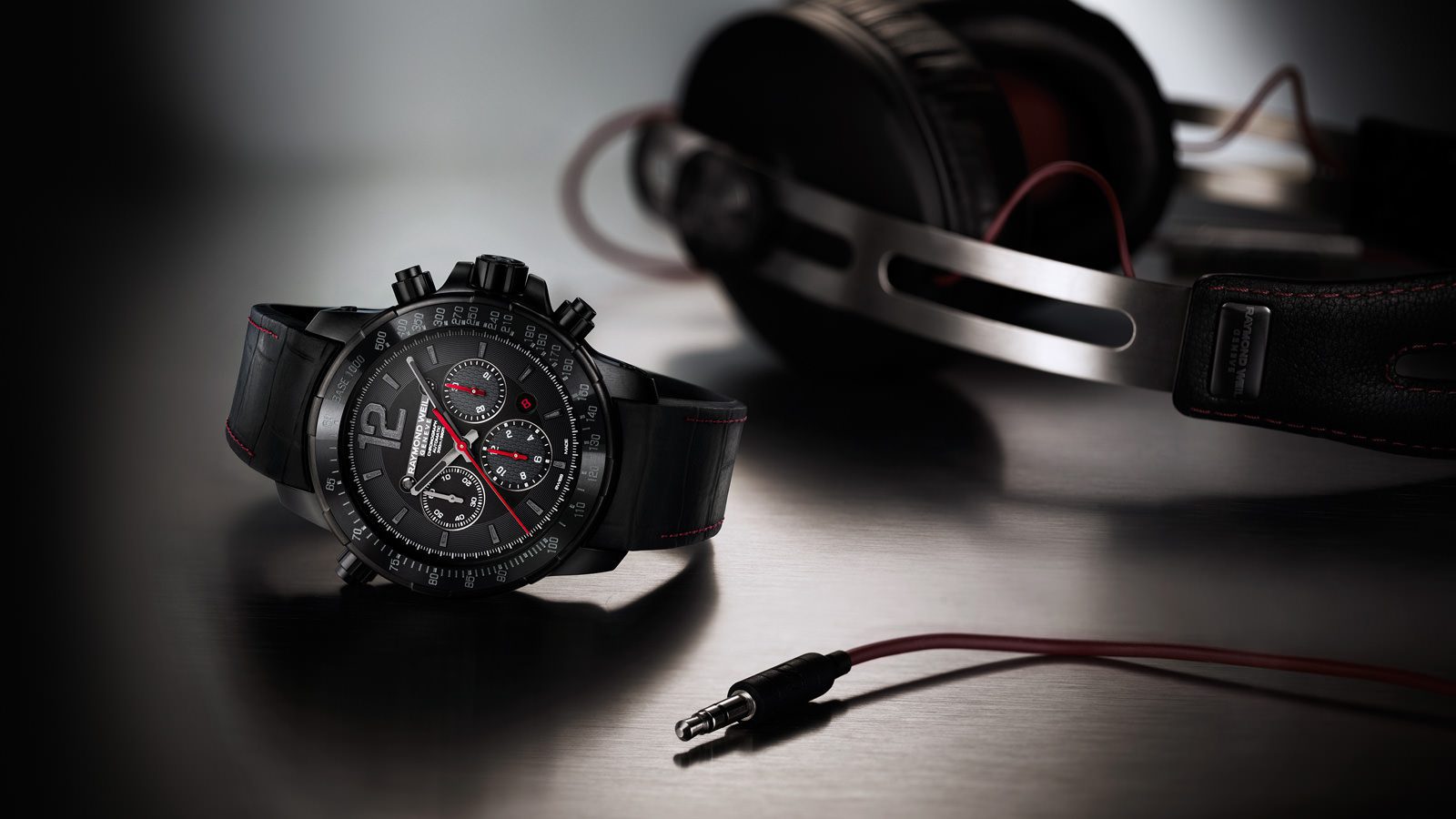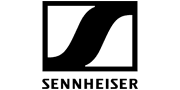 nabucco rivoluzione II with sennheiser
To reinforce the links with the musical universe, in which its whole history is anchored, RAYMOND WEIL associates itself with sound specialist SENNHEISER. In this way, the Brand suggests the unique experience of combining watchmaking and music, to the great pleasure of lovers of precision, emotions and performance, values common to both worlds that the watchmaker would like to share with its clientele.